90 Day Fiance's Paul And Karine Staehle Drop Restraining Orders Against Each Other
Pierre's parents also cancelled their upcoming custody hearing.
Ashley Hoover Baker October 2, 2020 3:30pm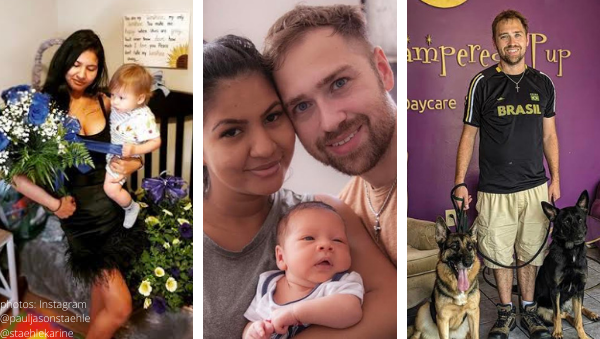 Happily Ever After?!
After 90 Day Fiance's Paul and Karine Staehle filed restraining orders against one another earlier this year, Pierre's parents have decided to dismiss their Emergency Protective Orders, as per reports from In Touch.
The controversial couple didn't stop there, as they cancelled the December custody hearing of their 1-year-old son. "A judge signed off on the paperwork on September 16 after their explosive marital drama was documented in a now-deleted Instagram Live on July 30."
In case you missed it:
US Magazine reported, "The TLC star [Paul], 37, shared a video on Friday, July 31, that showed him in the hospital wearing a mask and waiting for test results. 'Karine took off with Pierre and I don't know where they are,' he told his followers, adding that his neighbors called to let him know that she hopped into a car with their 16-month-old son, with no car seat. He revealed that he had messaged the Brazil native's mom who was 'worried for her safety' and 'wants to get a hold of her' but Martins' phone was turned off."
Karine's restraining order against Paul was made public…by Paul!
TRIGGER WARNING!!!!
Paul posted a screenshot of the restraining order he was served with. In the docs, Karine says multiple times in the past couple of weeks Paul has "pushed me, grab my breast squeezing and twisting hurting me, pushing me to the floor." Karine accuses Paul of forcing his penis into her mouth and raping her," according to reports from The Blast.
As per the restraining order, Karine claimed that her husband yells and throws things at her, keeps her green card from her, and monitors her every move. Click here to a screenshot of Paul's Instagram post to see the restraining order for yourself. The IG post has since been removed.
View this post on Instagram
Want to stay up-to-date with all things 90DF?
Check out the Pink Shade podcast for all your TLC needs. Here is Erin and Mary Payne's most recent hilarious episode.
Do you think 'Pole' and Karine will make their marriage work? Drop your theories off in the comments!
---