VPR's Stassi Schroeder Opens Up To Andy Cohen About Prenup And New Home
Ashley Hoover Baker February 6, 2020 8:47am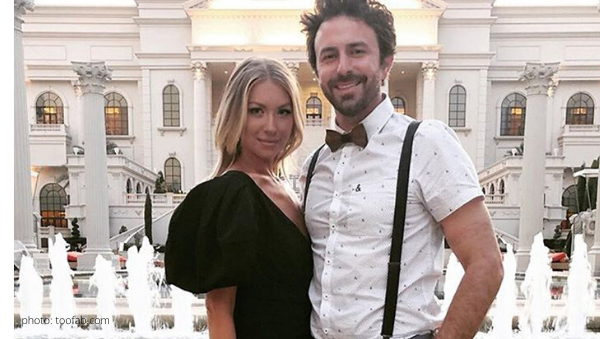 Vanderpump Rules beauty, Stassi Schroeder. opened up to Andy Cohen on Watch What Happens Live! about signing a prenup and purchasing her gorgeous new home before she ties the knot with Beau Clark later in 2020.
During a WWHL! game called 'DWheel Breakers' that Stassi played while on her boss' popular late-night show, some major truths were dropped.
The question:
'Sig [Significant] other asking you to sign a prenup on wedding day' was posed to the New York Times Best Selling author of Next Level Basic.
Stassi's response:
The Khaleesi of VPR was quick to respond, "We are … yeah." Stassi's strategy of answering quickly was effective in getting Andy to move along quickly. Other Bravolebrities should take note.
The couple's new digs:
As if planning a wedding abroad wasn't enough of a task, Stassi focused on her future in Los Angeles when she purchased her first home, in the Hollywood Hills nonetheless. She told her 'Straight Up With Stassi' podcast listeners, "Well, I purchased my first home. This is very exciting."
"And I'm excited to be living in there with my fiance," Beau interjected. Could they be any more adorable?
It was revealed that although Beau didn't help purchase they house, he is helping in other ways. He joked, "And I will be renting out a room and doing all the… everything to take care of the house because I'm the only one who knows how to turn on the sprinklers and how to do everything else about that house."
Beau did take a moment to clarify the living situation. 'I'm not freeloading … I'm not living there for free, people!' Beau said. 'Trust me, I'm doing my damn part. Sorry … I'm not an author and I don't have a nice chunk of change after I sold a bestselling novel to drop down X-amount of money on this amazing house.'
It's evident that Stassi wants to make Beau feel included in the homeowner joy by the caption she posted with a pic of the 2,900 square-foot Spanish-style home built in the 1920s to the 'gram. "Homeowners AF."
View this post on Instagram
Are babies on the brain?
US Weekly caught up with Kristen Doute's frenemy to discuss possible motherhood in the future. Stassi admitted that she and Beau were trying to start a family ahead of their July 2019 engagement.
"I was trying last summer. I was like, 'Listen, if he's not going to propose, I'm going to take matters into my own hands.' I was seriously hoping to be pregnant because that is so much more important to me than even getting married."
That plan was paused once the adorable couple got engaged. "I just cannot wait to be a mom. And then once I actually did become engaged, I'm like, 'Well, I can't be pregnant at my wedding.' Like, I have to be able to get s–t-faced."
The former SURver noted that she needs "all the Italian wine" at her Rome wedding and noted that she is "holding off" on getting pregnant because of her wedding dress. Way to commit to that 'OOTD' life.
*I feel it is important to note that Stassi and Beau are getting married in Rome, Italy, unlike Stassi's ex-boyfriend and close friend, Jax Taylor and Brittany Cartwright who were married in Versailles. No, Not Versailles, France. Ver-sayles, Kentucky.*
If you're like me and can't get enough Stassi in your life, you should check out the bonus episode I did of the On This Day Entertainment podcast reviewing Stassi's book, Next Level Basic.
Do you see Stassi and Beau growing old together? Drop your opinion off in the comments!
---