VPR: Jax Taylor Has Choice Words For New Cast Members
Is anyone else getting major Vicki Gunvalson vibes from Jax?
Ashley Hoover Baker January 8, 2020 3:43pm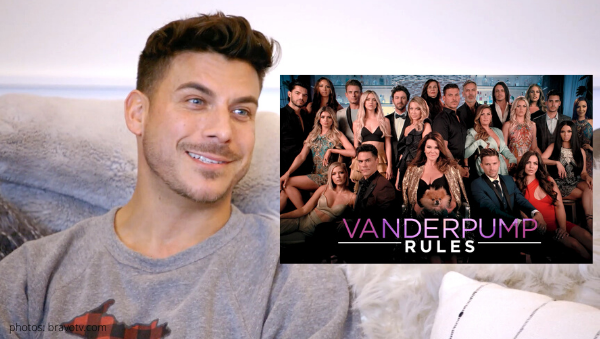 Vanderpump Rules star Jax Taylor had some choice words regarding his new co-stars on the 8th season of Bravo's hit show. TMZ cameras caught up with the senior VPR star as he was leaving the Watch What Happens Live! clubhouse with his bride, Brittany Cartwright.
There's a lot to unpack here.
Let's start with Jax's bold statement in response to the question if he likes the new SUR and Tom Tom crew. "I just don't like new people. Not a fan. I do like Max [Boyens], I do like Brett [Caprioni] because I'm actually their friend. I actually hang with them on a day to day. It's not fair to say that I don't like these new people, but I really just don't like them."
Brittany (Beauty) interjected to smooth over Jax (the Beast)'s sloppy language that he does in fact like two of his costars. The bartender then clarified, "I like Max and Brett, but I don't like the rest of them."
The cute Kentucky native moved into damage control part 2 by thowing Dayna Kathan's name into the mix. To be clear, Jax never says he likes Dayna. It sounded to me as though Brittany was trying to stay in a peaceful place with the other VPR babes.
Let's go back to Jax…
The TMZ cameraman clarified that Jax's distain for the newbies was Insta-official. Jax took his shade to the next level when he broke the fourth wall and told the camera directly, "I'm going to make it official to your camera. I do not like them."
To say Jax has an inflated sense of self is a gross understatement. "I don't know them long enough." Who does this guy think he is, Mariah Carey?
"I've been on the show a very long time. I'm very protective of my family, my group, my friends." The newlywed continued, "When new people come in and hop on a show after 8 years and think they can just join the Vanderpump party. It doesn't work like that. No."
Hilariously, Jax continued his temper tantrum by saying the new cast members are coming in 'thirsty' and trying to start drama from nothing. Isn't that Jax's modus operandi? Get a clue.
Speaking of poorly behaved Bravolebrities, does anyone else feel Vicki Gunvalson vibes oozing from Jax's lizard lips? His sense of entitlement is revolting, much like the 'OG of the OC'. Jax concluded, "You're disrupting my circle and that's why I don't like it."
Click here to see the video for yourself!
I couldn't get over all the drama, old and new, on the latest VPR installment. I even recorded a bonus On This Day Entertainment podcast episode dropping all my hot takes from new season. Click here to listen!
What did you think about the Vanderpump Rules season 8 premiere episode? Spill your tea in the comment section.
---