Vanderpump Rules' Brett Willis Gets Restraining Order Against Danica Dow
"Danica grabbed my neck twice, each time digging her nails deep and pulling hard enough to scratch off some skin from my neck."
Ashley Hoover Baker August 11, 2020 7:16am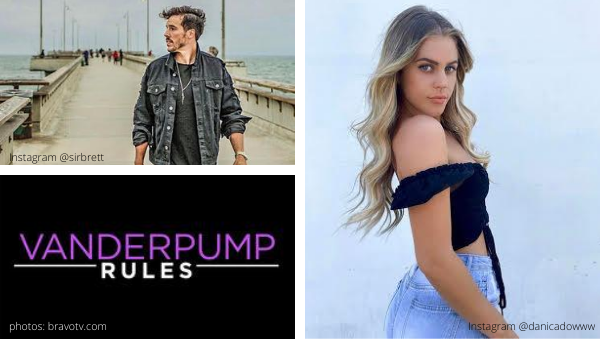 These are the best days of our lives??? 
Sure- that's what the Vanderpump Rules theme songs states, but is it?!?! My bet is that is a hard NO for VPR newbies Danica Dow and Brett Willis. The pair are in the news, yet again, this time because Brett filed a restraining order against Danica.
Danica and Brett's history:
It's no secret the on-again-off-again couple has had their share of issues in the physical abuse department. Never forget, we met SUR's assistant manager, Danica, right after she returned to work after being suspended for physically assaulting Brett during a shift.
Just last week, Danica got a restraining order against Brett after a fight at a house party. According to The Blast, Brett "broke into my home in the middle of the night when I was not there. He cut all of my clothes in my closet with scissors, (and) left threatening notes."
Well, the tables have turned on Danica, as Brett is now taking legal action against her.
The latest:
Brett went to a Los Angeles court seeking a temporary restraining order against Danica. He claimed she got violent with him in July when an argument erupted between them.
In court documents obtained by TMZ, Brett claims "Danica was pissed he wouldn't clean his dish until after a 90 Day Fiance episode ended. He says he went outside to let her cool off, but claims when he came back the argument continued … 'until Danica grabbed my neck twice, each time digging her nails deep and pulling hard enough to scratch off some skin from my neck.'"
Brett claims that the blonde beauty drew blood, stating that Danica was so pissed she "ran across her bed to claw my neck and rip my shirt apart." According to Brett, Danica bit Brett's arm in an attempt to keep him from getting away.

The drama isn't stopping with these two, so stay posted for more on this developing story.
Need more VPR in your life?
Stay up-to-date with all things Vanderpump Rules, Real Housewives, 90 Day Fiance and more by subscribing to the On This Day Entertainment podcast. Here is the most recent episode!
If Vanderpump Rules returns, would you like to see Danica and Brett return with larger roles? Sound off in the comments!
---