RHOC: Vicki Gunvalson Thows Shade At Braunwyn Windham-Burke's Sexuality And Marriage
"I'm very confused of her and I never liked her the day I saw her."
Ashley Hoover Baker May 13, 2021 6:00am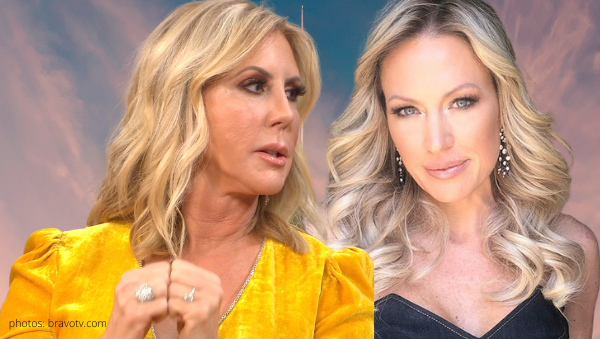 Real Housewives of Orange County alumni, Vicki Gunvalson, joined S'More Date creator Adam Cohen Aslatei (ACA) on episode 92 of S'More Live on Instagram and commented on her former co-star Braunwyn Windham-Burke's sexuality and marriage.
Vicki's opinion:
As you can imagine, the 'OG of the OC' didn't hold back when asked about the controversial current star of RHOC, Brown Wind Braunwyn.
In regards to Braunwyn's announcement of being gay while remaining married to Sean Burke, Vicki admitted, "I think it's very confusing and I think if that was her ploy to come on a national tv show- international show- and say she has seven kids, she's married….."
Vicki became inaudible as she tried to verbalize Braunwyn's coming out as *gay.* (I wish I had access to an eye roll emoji here!)
The soon-to-be Mrs. Steve Lodge continued, "I'm very confused of her and I never liked her the day I saw her."
(Make sure you wait til the end of the clip to see Vicki awkwardly/hilariously put her fiance on the spot regarding his feelings for the self-made paparazzi princess.)
View this post on Instagram
Watch the full interview for yourself:
Vicki and Steve talked about much more than Braunwyn!
Enjoy the full interview and learn about Vicki's offer (?!) to join the Real Housewives All Stars cast and where her friendships stand with the other two-thirds of tres amigas, Tamra Judge and Shannon Beador.
View this post on Instagram
GIMME S'MORE:
Check out S'More Date on Instagram for weekly celebrity interviews.
Also, download the S'More Date app! Like the show Love Is Blind, S'More Date builds meaningful connections between people before they see one another.
Do you think Vicki would re-join the RHOC cast if she was given an offer? Drop your opinion off in the comments!
---