The Bachelor's Tia Booth Is Expecting Her First Child
Update- the couple revealed their baby's gender!
Ashley Hoover Baker July 11, 2022 7:22am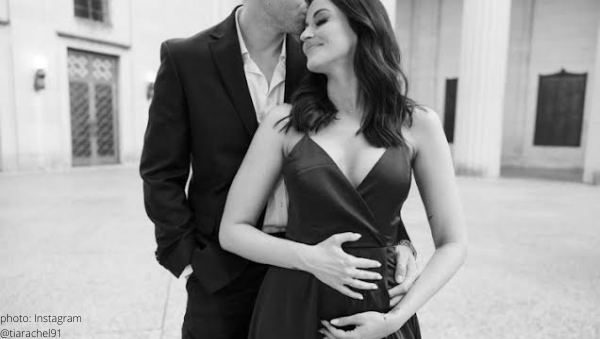 ---
Updated post 7/11/2022 @7:22
It's a boy!
Tia Booth and Taylor Mock took to their Instagram pages to announce their baby's gender.
Paired with the song Slow Down, the gorgeous couple learned (thanks to those handy pink or blue confetti-filled poppers) they were having a baby boy!
Congrats to the happy couple on their growing family!
View this post on Instagram
---
Original post 6/20/2022 @11:08
Baby on the way!
Congratulations to The Bachelor alum, Tia Booth, and her fiancé, Taylor Mock, who are having their first child.
The announcement:
Tia's fans know the season 22 suitress has struggled since her father's recent passing, so the brunette beauty took to Instagram to share her good news with her followers.
"This has undoubtedly been my most challenging season thus far."
"I've never felt such overwhelming sadness and pure joy at the same time. It's been difficult to be grateful for the good as if one of the most important people in my life is missing the celebration.
While I wish I could tell my dad all the good news in person, it brings me peace that he knows about it long before I do."
"Welcoming a new little life while mourning the loss of another proves that high emotions can exist simultaneously, and I have no doubt my dad had a hand in this."
View this post on Instagram
In case you missed it:
Taylor proposed to Tia at a Bachelor Live on Stage show in Atlanta earlier this year in front of oodles of screaming fans.
Tia shared a selfie with her fiance (and her ring) with her social media followers.
"Never been more shocked or sure in my life
 I love you so much Tay, my FIANCÉ!!!"
View this post on Instagram
Drop your well-wishes for Tia and Taylor in the comments.
---