Shane Coopersmith Spills The Tea On Below Deck, Dating, And Sustainability
The former deck hand even dished on his former castmates Eddie Lucas, Elizabeth Frankini and Chef Rachel Hargrove.
Ashley Hoover Baker December 23, 2020 5:04pm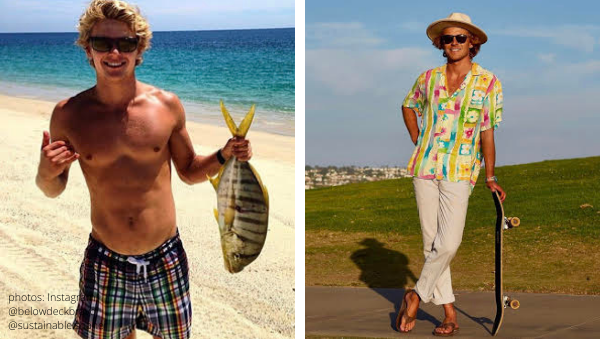 Ahoy, Yachties!
Shane Coopersmith joined S'More Date creator Adam Cohen Aslatei on episode 54 of S'More Live on Instagram to spill the tea on all things from Below Deck, to dating and beyond!
AC: How did you get cast on Below Deck?
The novice deckhand explained, "It was a long process. It was a lot of going to executive's offices in LA, interviewing, a bunch of scary contracts."
Thankfully for Shane, there were parts of the process that were less stressful.
"For the audition itself, I jumped in front of the camera, talked about sustainability, told them about my experience in the ocean and on small boats. Then I cracked a couple jokes…"
Did you really want to be a deck hand?
"I really wanted the platform and I wanted to implement some sustainability on the boat, too."
On a scale of one to ten, how hard did you try to be a good deck hand?
"Ten. I always go 100%."
Was Eddie [Lucas] out for you on the boat?
"No. He had every right to be frustrated about what was going on the boat. There's no reason I should have been on there- I was so underexperienced. Could he have left out a couple of comments about- like stupidity comments- it's just wrong."
Do you feel you were portrayed correctly on the show?
"It's reality tv. They box you in to everything."
Shane detailed, "They made a meme of my environmentalism- pretty foolish on their part. All they showed were my paper straws and they just made it like 'save the sea turtles.' I did so much more on the boat as far as sustainability goes, but that's all they decided to show."
"I don't want to answer that."
Do you think Chef Rachel [Hargrove] should have been let back on the boat after she quit?
"She's an amazing chef, so I would have her back on. Her food is five stars."
Shane elaborated on how personalities don't matter in yachting, and that it all comes down to the work you do- which is why Rachel was let back on the boat and  he was fired.
"I do understand why he let me go. He's a seasoned captain and he's probably tired of Below Deck hiring guys who have no idea what they're doing.
Do you have any regrets from the show?
Shane has used his time away from My Seanna to reflect on his readiness going into the experience.
"I regret not studying more yachting before I got on the boat. I could have learned more knots. I could have read more text books, or maybe I could have flown out to Florida a month earlier and worked on a yacht."
Are you familiar with the show Love Is Blind? If so, what do you think about getting to know someone before ever seeing them?
"I think it's a great concept."
The Berkeley grad continued, "I think online dating is way underrated. It gets a bad rep and it shouldn't. It shouldn't! What is the likelihood that you're going to go to a bar and the person sitting next to you likes long walks on the beach, loves dogs, Italian food, and is from the same small town as you?
Are you currently dating?
Shane is still dating Aubrey Thomas, who he adorably gushed over at large during his S'More IG live interview. Seriously, it was adorable.
Watch for the interview for yourself!
View this post on Instagram
WANT S'MORE?!
Check out the Love is Blind experience for yourself and get the S'More app here!
Do you think Shane deserved to be fired? Drop your opinion off in the comments!
---