RPDR All Stars 5's Shea Coulee Reads Harry Potter Author JK Rowling Over Transphobic Remarks
"F*CK YOU JK ROWLING YOU PASTY BOLOGNA LOOKING ASS BITCH."
Ashley Hoover Baker July 6, 2020 2:14pm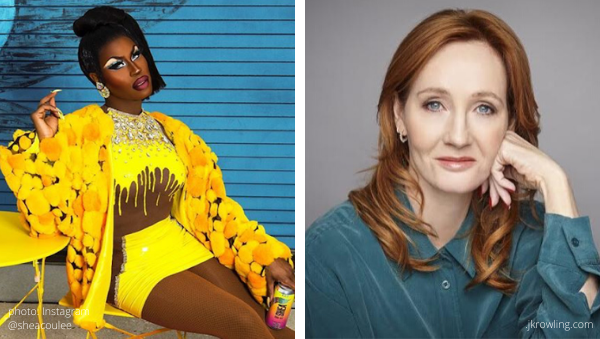 Ladies and Gentlemen… Start your engines. We are going on a trip to the library. Why? Because READING IS FUNDAMENTAL, of course.
RuPaul's Drag Race All Stars 5's Shea Coulee reads Harry Potter author, JK Rowling, over transphobic remarks.
In case you missed it:
JK has a history of making cynical comments about the transgender community. She continues to push her controversial stance on the transgender community. Glamour.com published an article detailing the best selling author's history of derogatory comments. In case you'd like to catch up…
If sex isn't real, there's no same-sex attraction. If sex isn't real, the lived reality of women globally is erased. I know and love trans people, but erasing the concept of sex removes the ability of many to meaningfully discuss their lives. It isn't hate to speak the truth.

— J.K. Rowling (@jk_rowling) June 6, 2020
Shea Coulee took JK to the library:
The RPDRAS5 fan favorite took to Twitter to comment on the author's stance towards the trans community.
This iconic read came after sculpture Juno Birch tweeted, "JK Rowling needs to be quiet immediately she is literally harming the trans community, she apparently just posted the clinic I went to as a child and said that they are experimenting on us, when in fact the Tavistock clinic saved my life."
Queens against JK:
ETonline.com reminded us of another Drag Queen, Peppermint, that publicly spoke out against the author's anti-trans rhetoric calling it 'archaic and ignorant.' Here's the full story!
Want more of RuPaul and her girls in your life?
Kitty Girl, I feel you!
Check out the hilarious podcast, Alright Mary, to keep up with all things from RuPaul's Drag Race and beyond! Colin and Johnny crack me up every week! Here's their most recent episode!
Also, I'll be breaking down All Stars 5 episodes on Instagram Live every Tuesday from 5-5:30pm PST. This week, I'll be joined by Kyle from @therealhousewivesorders! Make sure to follow @onthisdayentertainment on Instagram so you don't miss out!
On a scale of one to ten, rate Shea's read. Sound off in the comments!
---