RuPaul's Drag Race's Widow Von'Du: "A Black Man Is Being Arrested For Defending Himself In His Apartment."
"Literally, I'm not about to be the next one that we march for."
Ashley Hoover Baker June 4, 2021 2:46pm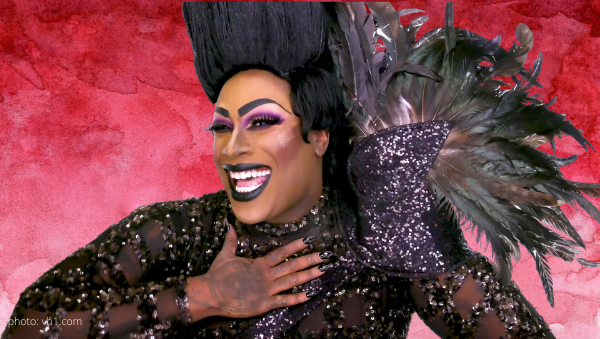 Sh!t just got real.
The arrest video of RuPaul's Drag Race season 12 contestant, Widow Von'Du, is currently circulating the internet changing the dialogue that began yesterday as details of the arrest were made public.
A herstory lesson:
According to reports from TMZ, "Von'Du came home early Friday morning in what her boyfriend described to cops as an intoxicated state … and was apparently upset when she found her BF sleeping there, even though the boyfriend says he'd notified her he was gonna crash."
Widow's boyfriend claimed she "proceeded to punch his face 4 to 5 times, strangle him, drag him across the floor and eventually push him into a bed frame … which the BF says knocked him unconscious after he hit his head, making him bleed profusely."
Widow's side of the story:
According to the RPDR alumni, she assaulted her boyfriend in self-defense. "His privilege does not extend to my apartment."
Widow made it clear she knew exactly what she is dealing with. "I'm being arrested for defending myself in my apartment. As a black man in this city, I am being arrested for defending myself IN MY APARTMENT."
"Just because his @ss got beat up because he would not leave when I asked FIVE TIMES, I'm getting arrested."
Widow wants transparency:
"What I want everyone to see- I am being arrested for defending myself in my apartment instead of someone being arrested for violating me."
The Kansas City queen asked onlookers to ensure this video gets posted to all of her social media channels. "A black man is being arrested for defending himself in his apartment."
As Widow approached the vehicle that took her into custody, she stated "I want to be strapped down," insinuating she doesn't want to appear that she was resisting arrest.
"Literally, I'm not about to be the next one that we march for."
Let that sink in.
Icon status:
Let's lighten the mood- for a quick second at least- Kitty Girls.
Yes, I understand that logistically Ray Fry– that's Widow's boy name- needed assistance entering the van, as she was in drag during the arrest.
Let's hit pause on that reality for a moment to appreciate how Mariah Carey-esque Widow sounds as she demands, "Someone grab my dress" to the officers holding her while cuffed and being detained.
Only a true diva makes that impact as they go into police custody.
Ok, back to reality.
Watch the arrest for yourself:
View this post on Instagram
In case you want to see the full-length video…
Want more of RuPaul and her girls in your life?
I can't say I blame you, squirrel friend.
Check out the Alright Mary podcast to stay up-to-date on the latest news and gossip, as well as hysterical recaps. Here is the most recent episode.
Drop your thoughts on what was stated in the police report VS Widow's side of the story in the comments!
---