RPDR's Shangela Created The Perfect Anti Covid Stocking Stuffer
Presenting...'Shangela Hand Sanitizer!'
Ashley Hoover Baker November 26, 2020 10:29am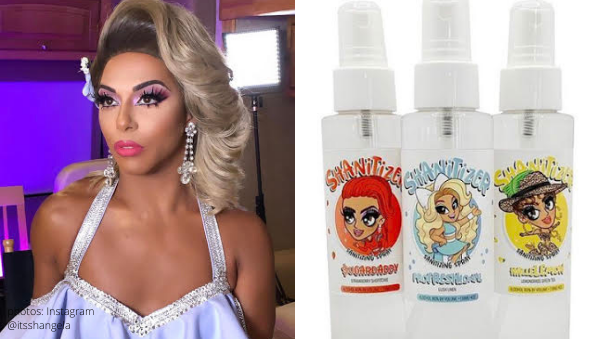 HALLELOO!
RuPaul's Drag Race favorite, Shangela, is serving more than only Charisma, Uniqueness, Nerve, and Talent this holiday season…
The Emmy nominated performer created the perfect anti covid 19 stocking stuffer.
Presenting…Shangela Hand Sanitizer!
Shangela took to Instagram to reveal her latest business venture.
"Presenting my newest product to keep us all safer this holiday season: SHANITIZER!!! It's a CDC-approved hand sanitizer spray for hands and surfaces that comes in 3 different amazing scents … HalleLemon, SugarDaddy and ProFRESHional!"
"I worked closely with Spirit Labs to develop this product and now it's available for you on Shanitizer.com. Buy 1 or collect ALL 3 while supplies last. Ships worldwide." 
View this post on Instagram
Shanitizer stats:
"My Shanitizer is not just any sanitizer — it comes with three different scents, Hallelemon, ProFRESHional and Sugar Daddy," Shangela explained.
"It makes reapplying sanitizer, whether it is to surfaces or your hands, enjoyable, and is the perfect size for any stocking!"
4 FL Oz. bottles are $10 each OR you can get a 3-pack bundle for $27!
Shangela's holiday wish list:
For the "A Star Is Born" actress, it's not about presents under the tree this year – though her first wish involves a special kind of package…
The legendary RPDR All Stars dragtestant continued, "Well, besides a husband … I would love to get a safe and effective cure for COVID, so that I can share it with the world and we can resume life together as it was and will be."
Need more of RuPaul and her girls this holiday season?
Check out the Alright Mary podcast for all your RPDR, Dragula, and beyond! Here is the most recent episode.
If you could spend the holiday season with any of the RPDR's alum, who would you choose? Drop names in the comments!
---