Heidi N Closet Opens Up About Life After RuPaul's Drag Race
Heidi discusses Pride, the BLM movement, and keeping her sur name.
Ashley Hoover Baker June 23, 2020 12:01pm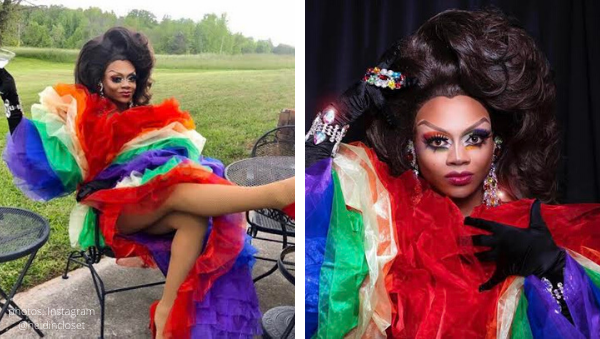 Heidi N Closet opens up about her life after RuPaul's Drag Race, including Pride, the Black Lives Matter movement, and keeping her sssssssur name. Season 12's Miss Congeniality chatted with BuzzFeed to update the 'closet cases' as to her life, post-Drag Race.
"
With every success remember you must take another step forward to stay on top of the progress made! The fight for equality never ends." -HNC
Heidi on Pride and the BLM movement:
The blessed and highly favored season 12 Queen explained how the meaning of Pride has changed this year in light of the BLM movement. "I feel like it's really breathing in an air of inclusivity, as well as making it a time to really look inward and see more important things than just going to a fabulous parade or having a party. I think it's really allowing us to see the true meaning of what Pride is — that we are truly what makes up the Pride and even though we're not out celebrating at the clubs or whatever, we can still participate in something that means something to us all."
"The true inclusivity of the movement with Black Lives Matter has really brought the community together and is not only really helping us look at issues within our own community, but also issues outside of our community that should have been addressed a long time ago."
Well said, Heidi.
BuzzFeed asked about Heidi's decision to keep her sur-name, N Closet, as opposed to the myriad of names RuPaul recommended:
On the show, Heidi politely declined using any of the recommended names that Ru suggested, Heidi Aphrodite was a personal favorite of mine. The North Carolina native wanted to honor the nickname that her fans created for themselves, 'Closet Cases.'
"Yes! I'm happy that they've embraced it so much. Because it's priceless. It really started out as just a joke name and it now it has turned into something fun. I also think it really exemplifies who I am as a person: fun, whimsical, a little odd. But, also an amazing thing I think it is that we're taking back "the closet." Because for many years, being "in the closet" has been term to put shame upon someone. Now we're taking back "the closet," we're not hiding in the closet, but our old fashion is, so you know. I feel like I am helping take back the term by me keeping that name."
What's next for Heidi N Closet?
"I have a couple side projects in the works already, so just be on the lookout for those. But also I want to really venture out into more TV things. I want to see my face on TV [laughs]. I think I make good TV, and I would enjoy doing it and acting and all those things. I want to it test out, so hopefully you'll be seeing me again on TV or in a movie."
I don't know about you, Kitty Girls, but I'd get a kick out of watching Heidi do ANYTHING. We need more HNC on our screens! Possibly All-Stars season 6?!?!
Need more of RuPaul and her girls in your life?
Check out the Alright Mary podcast. Here is Colin and Johnny's most recent episode. Prepare to gag!
Would you like to see Heidi on All Stars season 6? Sound off in the comments!
---