Here's A Preview Of RuPaul's Drag Race Season 12 Finalists' Finale Lewks
Which of the finalists do you think will be America's Next Drag Superstar?
Ashley Hoover Baker May 29, 2020 12:30pm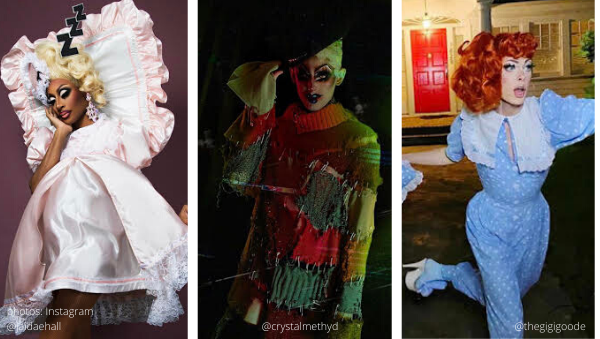 Hey kitty girls! While you prepare for tonight's virtual eleganza extravaganza, here's a sneak peak of RuPaul's Drag Race season 12 finalists, Jaida Essence Hall, Crystal Methyd, and Gigi Goode's finale lewks.
How will this work while in isolation?
Each Queen filmed the season 12 finale from their comfort of their own home, and as promised, Sherry Pie will not be featured after her catfishing scandal. In case you missed it….
According to Entertainment Weekly, "In place of the final duel's three traditional lip-sync battles, Goode, Hall, and Methyd will perform five total lip-syncs (recorded and presented virtually) before RuPaul crowns a champion."
The preshow:
Ahead of the main production, there will be a red carpet event hosted by RPDR season 10's Asia O'Hara that will also be hosted online and will include behind-the-scenes content, a fan fashion show, and more live tweets beginning at 4 p.m. ET/PT on the show's official event page.
Miss Congeniality:
The reigning Miss Congeniality, Nina West, will pass off the coveted crown, but how is to be determined. I wonder, was the crown already mailed to Heidi N Closet?
What will we have to look forward to after the finale?
RuPaul's Drag Race All-Stars season 5 debuts next week in the same time slot. Here are some more RPDR related shows coming our way!
In case you'd like to see the season 12 finale preview for yourself…
Need more of RuPaul and her girls in your life?
I hear you, squirrel friends. Check out the Alright Mary podcast for hilarious breakdowns of RPDR and more! Here is the most recent episode.
The RuPaul's Drag Race season 12 finale airs tonight, Friday 5/29/2020 at 8 p.m. ET/PT on VH1,
Which of the finalists do you think will be America's Next Drag Superstar? Drop names in the comments!
---