Lisa Kudrow And Mira Sorvino Continue To Manifest A 'Romy And Michele's High School Reunion' Reboot
'What are they like at our age?'
Ashley Hoover Baker March 20, 2022 4:00am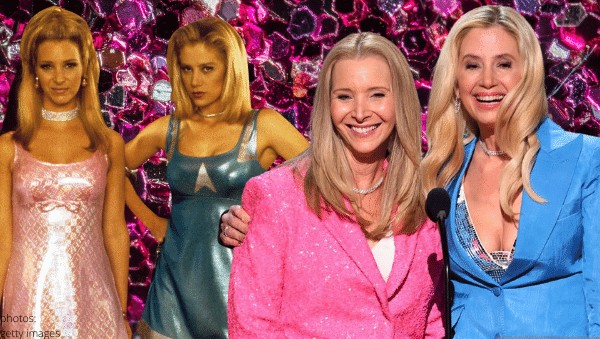 Hold on to your Post-it Notes and huge notebooks- yes… I'm talking to you, Sandy Frink.
Fans of the 1997 classic, 'Romy And Michele's High School Reunion,' may get the reboot we've been waiting for… if stars Mira Sorvino and Lisa Kudrow have anything to say about it.
The A-list actresses (who perfectly portrayed the 28-year-olds' journey to prove they are businesswomen at their ten-year reunion) are hoping the powers of manifestation come through for a 'Romy And Michele' reboot 25 years after the movie premiered.
Mira and Lisa channeled their inner Romy and Michele at the Screen Actors Guild Awards last month, clad in bold pink and blue power suits, in a similar color palette as the couture designed by Lisa's character for Romy and Michele's 1987 prom.
View this post on Instagram
Lisa and Mira are in!
Following the SAG Awards, Mira dished on a possible 'Romy and Michele' sequel. She told Extra, "For me, that's always been a wish."
"People have a hunger for it, and we'd love to do it," elaborated the Mighty Aphrodite actress.
Lisa later revealed she was on the same page as Mira during an appearance on "Entertainment Tonight," adding a reboot would be "really fun."
The Friends actress also wonders, "What are they like at our age?"
Call to action:
Lisa asked fans watching her ET segment to, "Tell Disney you want a sequel!"
"Robin Schiff will figure it out. She's got ideas brewing."
Want more Romy and Michele?
In case you missed it, ABC Family created a prequel called Romy and Michele: In the Beginning, starring Knocked Up's Katherine Heigl and Virgin River's Alexandra Breckenridge.
Wait! There's more…
ROMY AND MICHELE The Musical is in the works!
Billed as "an absolute feel-good joyride," the musical features a score inspired by 1980's and 1990's pop music.
---