RHOP Star Monique Samuels' Bird T-Challa Is Home
Ashley Hoover Baker August 10, 2020 9:34am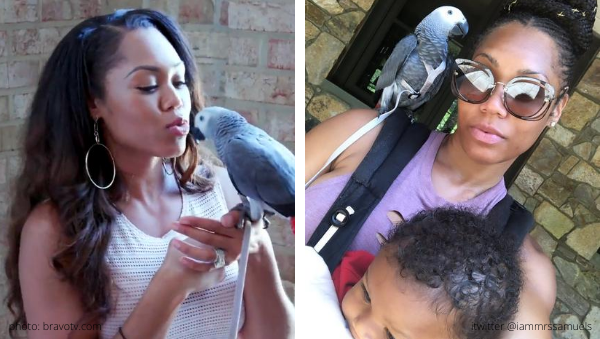 The feathered Real Housewives of Parrots Potomac pet is home!
Monique Samuels' gray parrot, T'Challa, who made his silver screen debut on season 5 of RHOP, went missing over the weekend. Mo took to IGTV to share information hoping to get her family's bird returned safely. Thankfully, there is good news for the Samuels family!
"My baby flew home to me!!!!!!!!!!!! 🙌🏾😭🙌🏾🙌🏾🙌🏾🙌🏾🙌🏾🙌🏾🙌🏾🙌🏾🙌🏾🙌🏾 Thank all of you for the positive energy and prayers!!!! He found his way home," Mo shared to her Instagram page.
What a relief!
In case you missed it:
Monique begged her fans and followers to help her find her family's missing pet.
"Please Help me find T'Challa. Anyone in the Potomac area please keep a look for my parrot. Please post anything that you think will help me find him. I've placed his cage out front of my home and his perch out back. I've been driving around for 3.5 hours looking for him and calling his name. I'm devastated and praying for his safe return. I'm offering a reward for anyone who can locate him 🙏🏽🙏🏽🙏🏽."
(In case you'd like to watch Monique's heartbreaking IGTV post.)
The good:
On a positive note, Monique's husband, Chris Samuels, watched their kids while she looks for T'Challa. Based on the season 5 RHOP trailer, Chris' participation with the kids is an issue with the Not For Lazy Moms creator, so I'm glad he stepped up when his wife and kids needed him. "In case you missed this season's preview, here ya go!)
Back to the bird.
The red-tailed parrot is micro-chipped. Though that didn't help the bird get located (it's not a GPS after all- though a GPS for T'Challa is a good idea…), micro chipping would have properly identified  the feathered friend as T'Challa Samuels. (Maybe it's just me, but I think the fact that the Samuels' family bird is potty trained would be a clear indicator of his identity….but what do I know?!?!)
T'Challa's origin story:
The Drag Queens rapper previously opened up about adopting the parrot and revealed why she decided to get a bird over a different kind of creature.
I love animals and my hubby wouldn't let me get a dog so I got a puppy with wings 🤣🤷🏽‍♀️ he's the best pet I've ever had honestly. Never knew birds were cuddlers #rhop https://t.co/CfOIW0gZnB

— Monique Samuels (@iammrssamuels) August 3, 2020
"Now that I have three kids, I'm constantly being pulled left and right, and I'm trying to figure out how to balance myself," Monique explained in an interview during the Season 5 premiere on August 2. "I have always been an animal lover, and I said, 'I need to get a bird.' He's like a stress reliever for me."
As for the name T'Challa, the parrot's namesake emanated from the movie Black Panther. T'Challa is the King of Wakanda. As the Wakandan monarch, he became the holder of the Black Panther mantle. Truly an epic name for an epic creature.
The Taste of Reality team is thrilled that the Samuels family is whole once again.
Need more RHOP in your life?
Join me, Ashley Hoover Baker from On This Day Entertainment, and Sasha Morfaw from Instagram's @thebravobreakdown page for an Instagram Live Takeover on Taste of Reality's Instagram page. We hope to see you on Wednesday, 8/12 at 5pm PST for our RHOP kiki!
Has seeing Mo with T'Challa made anyone else want a pet bird? Please make me feel less crazy in the comments!
---