RHONY: Sonja Morgan Announces Ramona Singer's Dog Coco Passed Away
"Your mom, dad, and Avery will miss you so much."
Ashley Hoover Baker October 4, 2021 8:26pm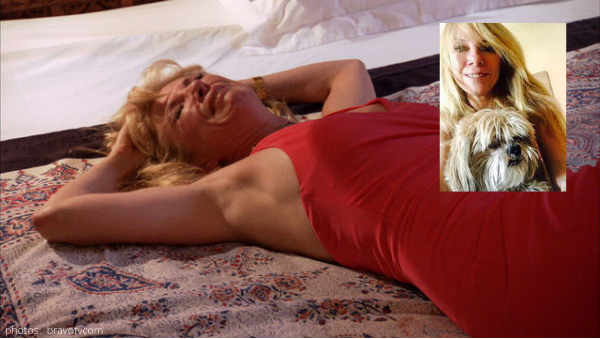 It's a sad day for Real Housewives fans/dog lovers.
Ramona Singer's precious pooch, Coco, has crossed the rainbow bridge.
The announcement:
The Real Housewives of New York OG's friend/co-star Sonja Morgan spilled the sad news via her Instagram story with a photo of Coco and a heartfelt message.
"Your mom, dad, and Avery will miss you so much."
Unlike Sonja's story, this Instagram post won't expire in 24 hours. Thanks, @brandsbybravo.
View this post on Instagram
Warm wishes via social media:
Bravo fan pages have flooded the internet with photos of the beloved pooch with his human mom.
"Oh no!!!! I'm actually so sad about this 🥺."
"I actually feel terribly sad for Ramona. That's and incredibly [sic] long time to have a dog and she will be missed."
"Coco is pooping on Heaven's carpet now."
"Nooooooo 😢 not the news i wanna read before bed 😭 rip coco, she gave [sic]us more than some housewives. Ugh animal passings always hit me harder."
"Coco always supported other women…RIP sweet Coco💚💚."
RHONY fans hearing 🐶Coco Singer crossed the rainbow bridge 🌈🌉. #ripcocosinger @ramonasinger #rhony pic.twitter.com/8Uvmq0Knm3

— OnThisDayENT (@OnThisDayENT) October 5, 2021
Classic Coco:
Enjoy one of the many magical moments with the late, great Coco Singer.
Want to stay up-to-date on all things reality tv?
Check out Zachary Reality for the latest on your favorite Bravolebrities, Bachelor Nation, and beyond.
In addition to Coco Singer, who are some of your favorite reality tv pets of past and present? Drop names in the comments!
---