RHOC Alum Jim Edmonds Took Meghan King Edmond's Credit Card And Anniversary Gift Back
Ashley Hoover Baker January 24, 2020 2:00pm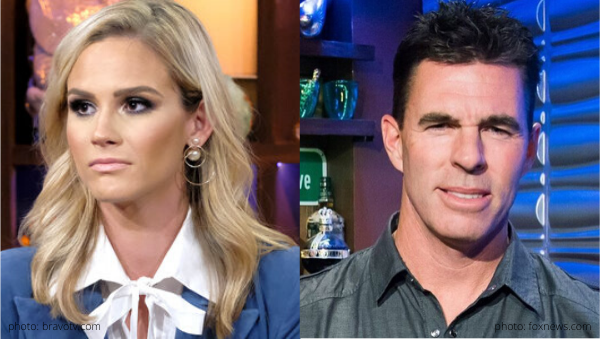 Petty AF!!!
Former Real Housewives of Orange County husband, Jim Edmonds, took Meghan King Edmonds' credit card and anniversary gift back after filing for divorce. Way to keep it classy, Sneaky Jim.
MKE made an appearance on the podcast  Juicy Scoop with Heather McDonald and spilled her piping hot tea on this and so much more…
The Dirt Part 1-
Meghan found out that her MLB 'player' husband filed for divorce from the media, not Jim. I haven't heard of such a cowardly break up since Jennifer Love Hewitt broke up with Carson Daly via her publicist. He learned he was dumped while listening to Howard Stern's radio show. But I digress…
The Dirt Part 2-
The mom of three dished that Jim took several of her belongings when he left her. "[Jim] literally packed a bag and left. He packed up his hard drive from his computer, the credit card out of my wallet, like everything," per MKE's podcast appearance.
"He wanted to make sure I had no access to his money, so I didn't, even though he left me with his… our three children." Meghan explained that Jim dug through her purse while she was hiding from him with her mom and dad after they had a messy fight. "He got me a pair of Chanel boots that I wanted that I tried on in the store and put on hold and a pair of jeans. He took those too! He took my gifts for the anniversary." Could this man be any more cringe worthy?
The Dirt Part 3-
Meghan is estranged from the two children Jim shares with his second wife. "I've been blocked from their phone numbers, from their Instagrams, they've been told things that were never said." Meghan stressed that she'd been in the kids' lives since they were four and seven year olds. "They were little. They felt like my full-blown step kids. Like, they were my family. I did so much for them… It's so heartbreaking." MKE noted that she was hopeful for a reunion when they're older. "In the meantime, I'm praying for them."
The Dirt Part 4-
The model/blogger referred to herself as "such a dumb*ss." when she revisited the three seasons of RHOC she starred on. "I was watching myself, like, 'Oh my God, Meg, you are so dumb. I was defending him so much, like any good spouse. I think I was brainwashing myself a little bit to really not see what was really going down." Meghan believes Jim's ego is fragile, so the spotlight shifting to her was not sitting well with him.
The Dirt Part 5-
After Meghan revealed Jim's betrayal in a blog post, she wrote a public apology on his behalf, revealing she was an enabler.' She admitted, "I'm supportive. He's not the best writer so I helped him. I helped him. I'm like, 'Oh, he means this.'" Oooh, girl…. (face palm).
With all the marital drama surrounding Meghan, do you think it's time for her to get her orange back? Drop 'here for it' or 'not a chance' in the comments!
---