RHOC's Braunwyn Windham-Burke Posts Photo With Girlfriend After Announcing She's Gay
The sophomore year housewife didn't share any details about Kris, but added a rainbow flag and hearts to the post.
Ashley Hoover Baker December 3, 2020 12:56pm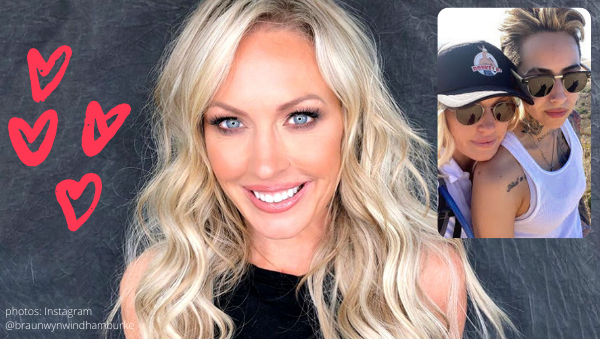 The day after Real Housewives of Orange County star, Braunwyn Windham-Burke came out as a lesbian, she introduced her Instagram followers to her girlfriend, Kris.
People.com confirmed the woman's identity, but did not provide any additional information about her.
The sophomore year housewife posted a picture of her snuggling behind her new partner on her Instagram story. Braunwyn shared her pride by adding a rainbow flag as well as the pink hearts emoji to the top of the photo.
View this post on Instagram
In case you missed it:
Braunwyn's here and she's queer!
The mother of seven proudly told GLAAD in an interview, "I like women. I'm gay."
"I'm a member of the LGBTQ+ community. It has taken me 42 years to say that but I am so proud of where I am right now. I'm so happy where I am. To be able to be comfortable in my own skin after so long is just so nice."
"I'm just now starting to feel like I'm becoming the woman I'm supposed to be," she added. "I've always known it, but it took me, personally, 42 years to be comfortable in my own skin to say that."
Braunwyn's coming out announcement:
She took to the 'gram to write, "
It feels so good to finally be living my truth. I am a lesbian. At 43 years old, I've finally been able to accept this part of myself and I've realized there are no rules about when someone should come out. This is my time."
View this post on Instagram
What about her husband?
Braunwyn and her husband of 20 years, Sean Burke, aren't planning on divorcing and  that the family is "in unchartered territories."
"I love Sean. I love him dearly, he is my person, he is my family," but I'm not attracted to men and I never have been."
"Sean and I are still married, I plan on staying married," she said. "We are not sleeping in the same bedroom right now, but we are in the same house. We are raising our kids together, he's my best friend."
In a seeming reference to Kris, she added, "he knows the girl I'm dating."
Saying her children weren't surprised when she came out, Windham-Burke added, "I don't know how we are making it all work right now, but we are."
Are you enjoying Braunwyn's storylines on her sophomore season? Sound off in the comments!
---