What's Next For Love Is Blind's Amber Pike And Matt Barnett?
The newlyweds are planning a second wedding ceremony to celebrate their lasting love.
Ashley Hoover Baker March 4, 2020 3:54pm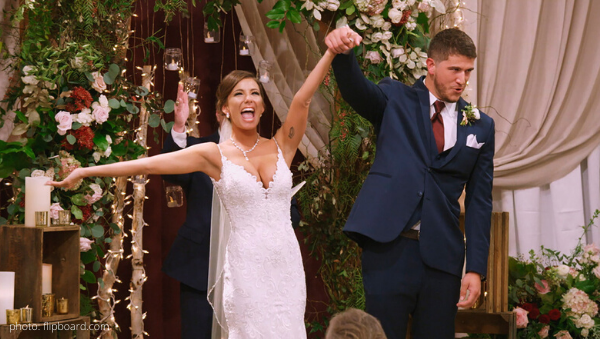 What's next for Love Is Blind's Amber Pike and Matt Barnett? After an nontraditional path to the alter, the couple is still going strong after a year and a half of marriage. Congratulations to the newlyweds, who are planning a second wedding ceremony to celebrate their lasting love.
The transition from 'pod' life to married life…
The couple met in pods and didn't even get to meet face to face until they were engaged. Their journey from the pod to the alter was captured by Netflix cameras that didn't stop rolling until the wedding was over.
That's when real work began for Amber and Barnett. Three months into their marriage, the couple had their 'first real fights,' as Amber puts it. "Everyone has an idea of what they want out of a spouse. We were forcing that on each other," Amber explained to OprahMag.com.
After weeks of drama, they sat down to talk it out, much like going back to pod life. "I told him we have to be ourselves and stop imposing rules on each other. It works or it works. It doesn't or it doesn't. We just have to be honest about it and what's going on," Amber explained. "I think from that moment we took a lot of the pressure off. We've been doing amazing ever since."
Now that the couple is settled into their marriage…
Barnett and Amber have fully settled into a routine, as they live happily together with Barnett's dog, a wolf-German Shepherd-Husky mix. "My friends are obsessed with him," Amber gushed. After being hesitant initially, Barnett's family has come around to his relationship with the outspoken Amber.
"Amber and my mom are drinking buddies. I know mom loves Amber," Barnett bragged to OprahMag.com. In Amber's opinion, his mom was "just waiting for the party to arrive."
"There's not a day that goes by where we're not cracking each other up," Barnett elaborated. "Even on rough days, we still pop jokes and get over it fast. Our relationship is a lot more fun than you guys could ever even see."
What's next for the couple?
Amber and Burnett are excited to participate in all of the 'traditional Southern stuff' for their second wedding. "I still want to do the bridal showers and the bachelorette parties," explained Amber.
The couple still appreciates their first wedding because it represents the process that brought them together. "That won't take our original wedding back," Amber says. "It was a huge stepping stone for us."
Would you be interested in Netflix filming a spin-off of this popular couple's new life together? Drop your opinion off in the comments!
---