KUWTK Guide To Wyoming!
Dana Escamilla January 21, 2020 10:22am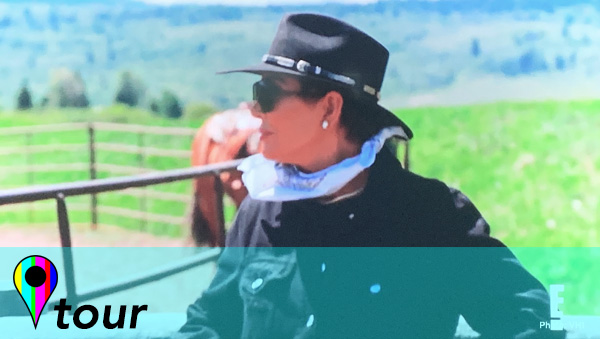 In the Keeping Up With The Kardashian season 17 finale, the family heads to Jackson Hole, Wyoming as Kris Jenner brings sisters Kim Kardashian, Khloe Kardashian, Kourtney Kardashian and Kendall Jenner together in an attempt to work through their issues getting exasperated by filming the show (looking at you Kourtney). Much like the entire season, Kylie Jenner was a no-show as she had the more pressing commitment of just staying home.
Kris chose Wyoming since it has held a special place in everyone's heart as a long-time family vacay spot. The destination has also become another place to call home for the Wests. In 2019, Kim and Kanye West purchased 4,500 acres of the Monster Lake Resort in September and in November further expanded their country claim with the purchase of 6,713 acres of the Bighorn Mountain Resort. Now the Calabassas crew will be making many more trips to the Cowboy State!
Take a look at where to stay and play in Wyoming KUWTK style!
STAY
In typical travel-envy style, the Kardashian Jenners stayed at a luxury lodge in Jackson Hole that made us want to pack our bags immediately! The impeccably designed Caldera House is nestled between the mountains in Teton Village just steps away from the tram and short drive to the spectacular Grand Teton National Park. The hotel offers a variety of dinner options, however if you chose to dine in, be sure to take a cue from the Kardashian Jenners on how to mix up a family dinner with some shady role play!
PLAY
DIAMOND CROSS RANCH
Kris's first attempt at team building brings the Calabassas cowgirls to the Diamond Cross Ranch.  This Jackson Hole ranch is a popular filming location and an event space designed to change the way people communicate with horses, friends, colleagues and family. Kris thought once they saddled up for the cattle drive, it will spark Kourtney's love of filming since Kourtney's first reality TV show was Filthy Rich: Cattle Drive. (Cue the E! archival footage!) The activity was a good thought, but turned out it was more of a solo act as they tried to herd the cattle and everyone but Khloe and Kendall were over it pretty quick. "I love this sh*t!" -Kendall
TREETOP ADVENTURE PARK
Kris's second attempt at family bonding brings them to the top of the world! The Treetop Adventure Park is where Swiss Family Robinson meets the X-Game! The ropes course is a few minutes from Jackson and has seven courses available. Adults and kids harness up, clip in and safely ride zip lines, shimmy over suspended bridges, scramble up nets, cross swinging logs and even ride an aerial skateboard! That is unless you're Kim Kardashian who had one of THE BEST TV meltdowns the moment she clipped in. Nevertheless, the rest of the family made the course look fun and only slightly terrifying!
For a full recap of the KUWTK S17/E12 episode listen to Kar Dishin It Podcast!
What were some of your favorite moments from the trip?! Let us know in the comments below!
---