Khloe Kardashian Gets Slammed After Toilet Papering Kourtney Kardashian's Home Amid Shortage
I couldn't help but wonder... Do they get the news in Calabasas?
Ashley Hoover Baker May 12, 2020 8:19am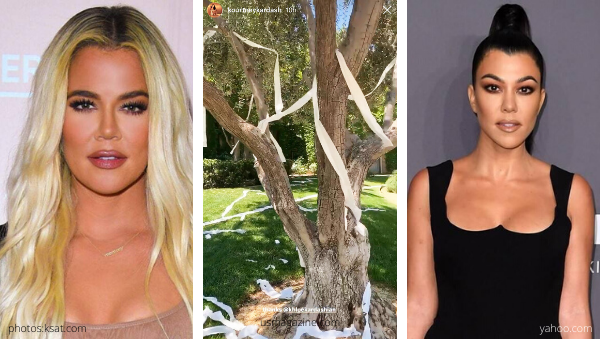 The privilege is alive and well in Calabasas, California.
Khloe Kardashian is facing online backlash after playing a middle school prank on her sister, Kourtney Kardashian.
The prank:
The Revenge Body host toilet papered her big sister Kourtney's house. Fans couldn't help but vocalize their disdain for Khloe for wasting toilet paper, valued commodity amid the covid-19 pandemic.
Khloe wasn't the only Keeping Up With The Kardashians star to have the internet clap back at them. Kourt called the prank 'genius' before telling her daughter, "Next time, guess what we're gonna do, P," according to her Instagram story.
First of all, can we talk about the misuse of the word 'genius?!?!" I haven't heard this term so horribly misused since Britney Spears called her ex, Justin Timberworlf's music genius on Instagram last month, but I digress.
Back to Kourtney's Instagram story, "So I haven't had this much excitement in months. This is what Mason and KoKo do when they have a sleepover."
Fan reactions:
"we're in the middle of a pandemic and khloe tp'd kourtneys house while some people are literally struggling to find toilet paper in stores. the privilege jumped out," one angry fan tweeted.
khloe kardashian deciding to teepee kourtneys house with rolls of toilet paper just shows obnoxious & selfish rich people are even during a pandemic 💀

— 🌶 (@yaboishadia) May 9, 2020
"I guess they don't know what's going on in the world," a third fan said.
yes it's not like we're going through a pandemic and people aren't struggling to get toilet papers. god i hate this family

— ً (@egyptionblue) May 10, 2020
Perhaps the Kardashians could supply those going without rather than TP houses! Selfish, self entitled rich people 🙄

— LucyLea (@naralea) May 11, 2020
Kourt promised 'revenge' on her sister. Let's just hope they consider the lack of resources available before their next prank war.
Need more Kardashian/Jenner drama in your life?
Check out the Kar Dishin It podcast for all your Kardashian/Jenner needs. Here is the most recent episode.
On a scale of one to ten, how bothered are you by the excessive privilege and lack  of social appropriateness in this prank? Sound off in the comments!
---