Kellan And Kevin Dish On Their Acapella Connection And How Britney Spears Inspired Their TikTok Career
Listen to their impromptu cover versions of some pop music classics!
Ashley Hoover Baker March 19, 2021 12:43pm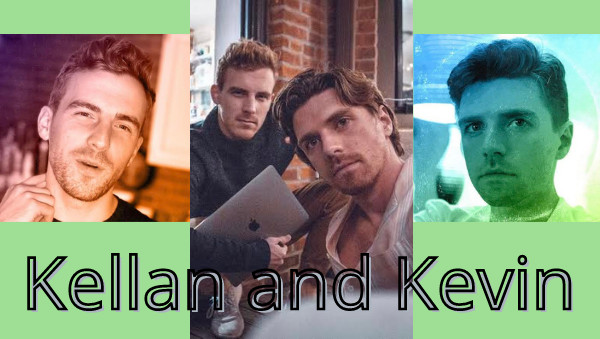 Talk about being Pitch Perfect…
Kellan Reck and Kevin Hupp of the singing duo Kellan and Kevin, joined S'More Date creator Adam Cohen Aslatei (ACA) on episode 74 of S'More Live on Instagram to explain their TikTok origin story, the pop music bop that made the guys an overnight success, and answer the age old question…Backstreet Boys or NSYNC.
As if the world wasn't divided enough already….
It's Britney, bitch:
The Bostonians met while attending BYU, collaborated in the acapella group the BU Treblemakers (could that name be any more aca-awesome?!?!) and eventually became roommates.
During the early days of quarantine, Kellan began singing the iconic song, Baby….One More Time, by the legendary Britney Spears (relatable AF). Kevin jumped in to harmonize with his roomie (again, relatable AF… except for being able to sing in harmony) and they posted a video of the impromptu duet on TikTok.
The rest is viral history.
An impromptu concert:
It's easy to see why the duo known to many as the new 'One Direction' became so popular. Check out their singing chops during a game on ACA's Instagram Live show.
View this post on Instagram
Aca-scuse me?!
As well calibrated as these crooners may be, they are divided on the pop music battle that defined a generation- Backstreet Boys or *NSYNC.
The cuties were also disconnected during a  cut-throat game of 'shag, marry, remove' American Idol edition with Kelly Clarkson, Jennifer Hudson and Carrie Underwood.
Watch to find out the answer to these debates and so much more!
Enjoy:
View this post on Instagram
Want S'More?
Check out S'More Date on Instagram and download the S'More Date app!
Like the show Love Is Blind, S'More Date, builds meaningful connections between people before they see one another. (A concept both Kellan and Kevin were open to!)
Which of your favorite songs would you like to hear Kellan and Kevin cover next? Drop your requests off in the comments!
---