Below Deck Sailing Yacht's Jean-Luc Cerza Lanaux Confirms He Is The Father Of Dani Soares' Baby
"I will be striving to be the best man and father that I can be."
Ashley Hoover Baker January 20, 2022 6:00am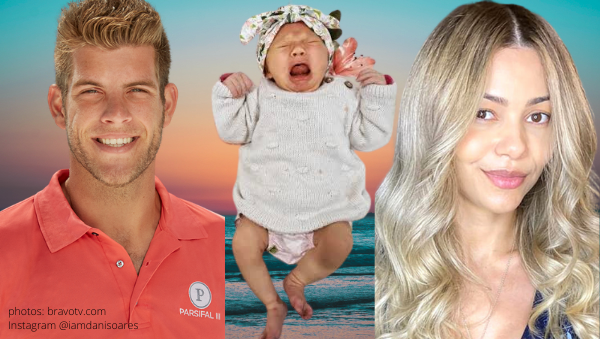 _________________________________________________________
Updated post 1/20/2022 @6:00
JL, you ARE the father!
Below Deck Sailing Yacht's Jean-Luc Cerza Lanaux took to Instagram to share the news that he is the father to his co-star Dani Soares' daughter, Lilly Rose.
"As the year 2021 came to a close. A new year in 2022 begins with high ambitions and positivity. My silence on social media has been intentional and much needed. I used that time to focus on what was important to me and my mental health.
I can't let 2022 go any further without sharing some beautiful news. An international DNA test that was done awhile ago was no small feat. I'm happy and proud to say Sweet and beautiful Lilly rose is my daughter. Dani and I have been working and communicating together to the best of our ability; given Dani is a full time mother and worker, and I being gone for extended periods of time not knowing when I will step back on land. This is imperative for the sake of our daughter as she needs both parents in her life.
With that being said, going forward, I will no longer feel the need to explain myself to anybody, when realizing people only understand from their level of perception.
I am thankful for my friends, and family who have stuck by my side through thick and thin. As I look forward to this new year with new opportunities, I will be striving to be the best man and father that I can be. God bless."
View this post on Instagram
JL disabled comments for his announcement.
Do you foresee a successful co-parenting relationship between Dani and JL? Drop your predictions off in the comments!

_________________________________________________________
Original post 6/19/2021 @15:19
The Bravo TV /Maury Povich Show-ish crossover we didn't see coming…
After months of silence, Below Deck Sailing Yacht's Jean-Luc Lanaux took to Instagram to share his 'heartbreak' over not knowing if he is the father of his co-star, Dani Soares' baby.
Spoiler alert- The Parsifal III crew members aren't having it!
JL's statement:
The deckhand took a break from his yacht gig in Panama City to attempt to convince Bravoholics that he is not to blame for not being involved with Dani's newborn baby girl.
"There's a lot of gossip about my social media silence so I think it's time to clear the air. While others are off chasing their 15 minutes of fame, I am working on a yacht in Central America and heartbroken to have to hear about the baby's birth on social media and read headlines like 'Dani Soares Says Her Baby's Father Doesn't Want Anything to Do With It' All I can say is if she's mine, I want to be involved 100%. As someone who grew up with parents who weren't together, I wouldn't wish that on any child. Not looking for a pity party. Just want everyone to know how strongly I feel about this, especially the haters who are so sure I am neglecting my responsibility. No one wants to know more than me if this is my baby girl!"
View this post on Instagram
Captain Glenn Shephard's BDSY season 2 cast didn't shy from sharing what they really think about JL's role in the paternity of Dani's baby. Take a look at the crew's commentary.

JL responded to the stewardess's comment. "I want to take a paternity test and would like to do it in person. If I get the invitation, I will be on my way!"
Alli tagged JL in her response. "The door has always been open to you and you know that! I'm going to private message you, this is too far and shouldn't be done publicly."
(Did anyone else read that with Alli's accent?)
The chief engineer called out his crewmate for his manipulation and childish behavior.

An Instagram user posted the question "Why would you even say that!?.. there's always more to the story," to the thread. Colin tagged the IG user in his damning response.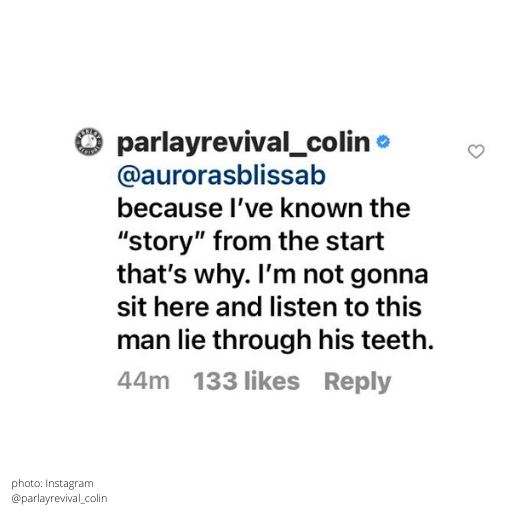 Natasha may not know the difference between an over easy egg and a scramble, but she knows a negligent man when she sees one.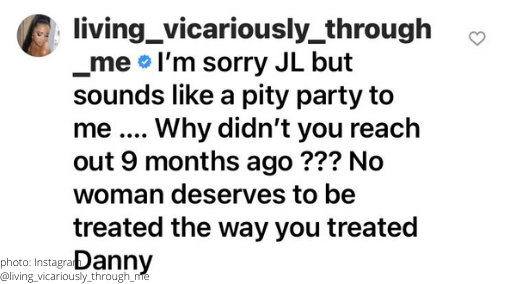 BDSY season 2's third wheel asked a simple-yet loaded- question.

Captain Glenn, Chief Stewardess Daisy Kelliher, and Lead Deck Hand Gary King have yet to comment on JL's statement.
Do you think JL is Dani's baby daddy? Drop your theories off in the comments!
---