Celebrity Hairstylist Chaz Dean Explains Why Flipping Out's Jeff Lewis Ended Their Friendship
"It's on him."
Ashley Hoover Baker August 9, 2021 4:00am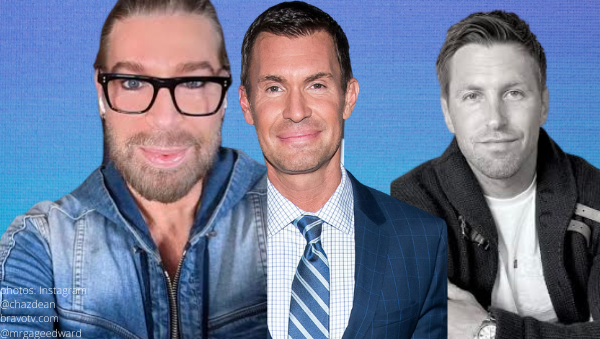 Celebrity hairstylist, Chaz Dean, joined S'More Date creator Adam Cohen Aslatei (ACA) on an episode of S'More Live on Instagram to dish on his former friendship with Flipping Out's, Jeff Lewis.
ICYMI:
Chaz and Jeff became close friends after the stylist to the stars and the real estate speculator/interior designer bonded over their love of dogs- and a renovation project.
Never forget, Chaz appeared on nine of the eleven seasons of Flipping Out. "We were constantly renovating."
What went wrong:
Jeff and his former flame, Gage Edward, suffered a messy split and custody battle over their daughter, Monroe.
When Chaz continued working on a project with Gage, Jeff cut the hairstylist out of his life. (Sorry not sorry for the lame pun.)
"Two years ago when Gage ended and I continued on a project that Gage started with me- he hasn't spoken to me since."
"It's odd. It's crazy. It's on him."
Calling out his former friend:
I don't hold any grudges on it. People do ask me all the time. It's on his part. And I get it, but it happened between them."
"I'm neutral. I'm Monroe's godfather. I can not pick sides. That's between the two of you."
Dirty deets:
"I didn't decide to work with him after you broke up. I continued to work with a project that he had been working on, so to cut me off like that…"
Chaz knows Jeff's pattern:
"I may get backlash for this on his show [Jeff Lewis Has Problems podcast], but I'm being honest with you."
"I'm open and I'm fine. I never cut us off."
Watch the full interview for yourself:
View this post on Instagram
Gimme S'More:
Check out S'More Date on Instagram for weekly celebrity interviews.
Like the show Love Is Blind, S'More Date builds meaningful connections between people before they see one another. Download the S'More Date app!
Do you think Chaz and Jeff have a chance at rekindling their bromance? Sound off in the comments!
---