'Flipping Outs' Jeff Lewis and Jenni Pulos Pull the Plug on Their Friendship
Jenni and Jeff and donezo.
Genny Glassman September 6, 2018 2:33pm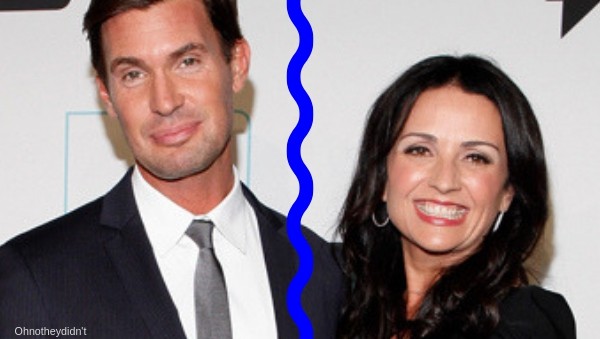 We've seen these two through both good times and bad, but it seems like the happy times have finally come to an end. Multiple sources are confirming today that Flipping Out stars Jeff Lewis and Jenni Pulos have officially ended both their business partnership and their friendship.
According to People Magazine, Lewis and Pulos called thing quits professionally a few months ago. The two were longtime collaborators at Jeff Lewis Design, but due to an explosive fight which will be shown on the September 11th premiere of the new season of Flipping Out they have officially put the kibosh on their friendship.
A source told the magazine that the situation is "sad." "They used to be inseparable but their differences just got too big to overcome.""They found fame together so there was always this thought that nothing could tear them apart, but that hasn't been the case," they added. "They'll never come back from this. It's over."
But a second source couldn't exactly explain why the friends of over 20 years have suddenly called it quits. "It was a combination of things," they said. "They both had different priorities pushing them in opposite directions. … It was only a matter of time before it eventually exploded."
As the article explained, things never seemed to get back on the right footing after Pulos returned back from her maternity leave after the birth of her second child, Georgia Grace. When she returned to Jeff Lewis Design, she had found that her responsibilities had been redistributed to other members of the staff. Lewis did give Pulos a promotion, but she felt like her new responsibilities were not going to lead to opportunities for advancement. The source said that Pulos, "felt entitled to more than Lewis could give her," and added that despite being Lewis' "longest employee," "she wasn't invested in the same way he was."
A third source revealed to People that the fight that the two recently had was too big for their long friendship to weather the storm. "It was a horrible fight that was uncomfortable for everyone around them to watch. There were too many hurt feelings there and they both just unleashed on one another," they said.
The bigger question now is whether or not Pulos will be part of Flipping Out in the future. Both she and Lewis are executive producers on the series, but the third source felt like the split was permanent.
"They'll never film together again. Jeff has cut people out of his life before who wronged him, and that's where Jenni sits now. This feels like a goodbye, at least for her," they explained.
As of this reporting neither Jeff Lewis, Jenni Pulos, nor Bravo have commented on the split.
Do you think Jenni and Jeff are done for good? Let us know in the comments!
---