Bethenny Frankel Responds To "Catty" Name Drop On Max's 'And Just Like That'
"When you're off TV for years … housewives are still talking about you."
Staff June 23, 2023 7:47am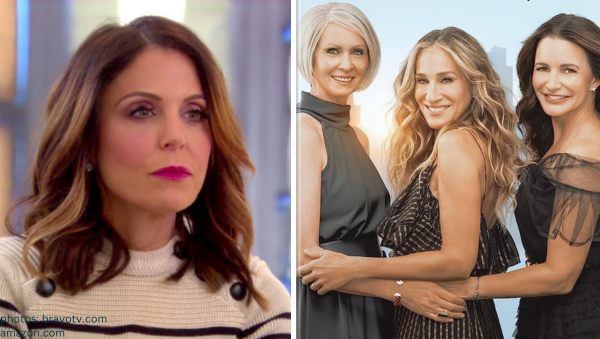 Bethenny Frankel low-key looooooves when she gets media attention, even if the press isn't positive.
In case you missed it:
During the season 2 premiere of And Just Like That, the former Real Housewives of New York star was named in a less-than-flattering manner.
Carrie Bradshaw (played by Sarah Jessica Parker) told her realtor, Seema Patel (portrayed by Sarita Choudhury) that she "almost bought a house in the Hamptons six times but always found a reason not to."
Seema's shady response brought it back to Bravo. "Was that reason always Bethenny Frankel?"
Bethenny's clap back:
The BStrong founder couldn't resist taking her issue with the season 2 premiere episode to social media.
While enjoying rosé from a teacup (make it make sense) in the Hamptons, she playfully watched the clip from the Sex and the City reboot which played above her.
Bethenny wrote, "When you're off TV for years … AND JUST LIKE THAT … catty housewives are still talking about you."
She doubled down on her Boss B status in the comments adding this was "paid for by my last spirits venture."
View this post on Instagram
On a scale of one to ten, how much is Bethenny loving this media attention? Sound off below.
---