Below Deck's Captain Lee Is Slammed By Former 'Stew' Elizabeth Frankini
"I just want to say that Captain Lee, he's miserable and judgmental."
Ashley Hoover Baker February 18, 2021 9:44am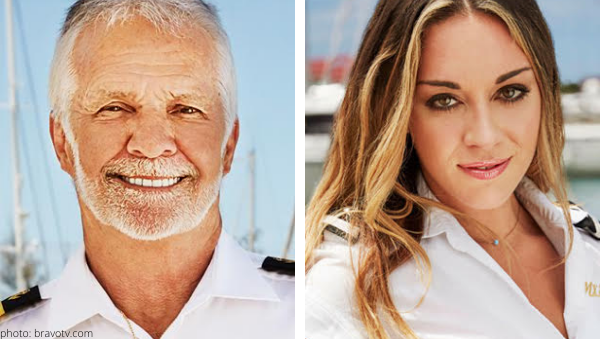 Former My Seanna stewardess, Elizabeth Frankini, is finished being polite.
It's no surprise the demoted-then-terminated staffer had a lot to say about her time on the mega yacht, but – in a surprising twist of events – she went hard on Captain Lee Rosbach.
How it started:
Drama ensued after a twitter user asked Capt. Lee if he would rehire the free sprited stew.
"Nope," replied the Captain.
— Captain Lee (@capthlr) February 14, 2021
That's when Elizabeth unleased her inner dragon…
How it's going:
Elizabeth laid her cards on the table in an interview with Showbiz Cheat Sheet.
"I just want to say that Captain Lee, he's miserable and judgmental."
She didn't stop there. "And after living through this experience like I wouldn't want to work with him again either."
Elizabeth made it personal:
In case you missed it, Capt. Lee and his wife, Mary Anne, lost their son last year after years of addiction issues.
"He's completely checked out, which is understandable."
Issues with the Chief Stew:
"He allowed Francesca to be a terrible chief stew," she explained.
"Basically unchecked the entire season and then relies on watching the edited show to form his final opinion. Because he wasn't involved enough to actually know what was going on in his own boat. And behind the scenes, I was being bullied and treated way worse than I think the camera showed."
Not all bad:
Although Elizabeth was disappointed with the way things played out with Captain Lee and Chess, she hit it off famously stewardess-turned-deck hand, Isabelle "Izzy" Wouters and Chef Rachel Hargrove.
"I'm so grateful for Izzy and Rachel's support. Izzy was always aware of what I was going through and made a point to make me feel less alone in the experience."
"And Rachel, we just clicked as friends. On a professional level as the charters went on and on, it was interesting to see how Rachel became more and more aware of how the interior team was being misled."
Whose side are you on? Drop Team Captain Lee or Team Elizabeth in the comments!
---