The Bachelor's 'Queen' Victoria Larson Apologizes For Bullying
"I hold myself accountable and can just do better next time."
Ashley Hoover Baker January 29, 2021 2:44pm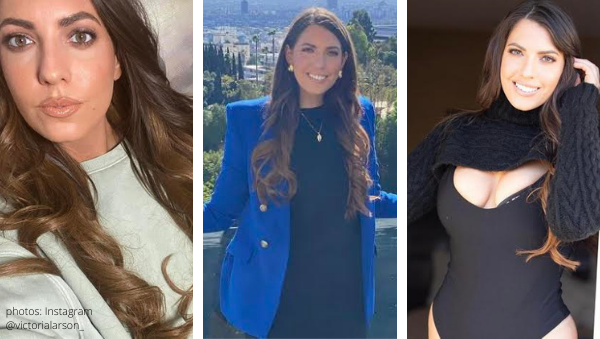 All hail the 'Queen?'
The Bachelor's controversial 'Queen' Victoria Larson apologized for bullying other contestants- so badly that she manipulated Matt James into eliminating her rival, Marylynn Sienna, and had a starring role in pushing Sarah Trott out of the contest for the final rose.
Most recently helped spread a vicious rumor about the  contestants, Brittany Galvin after LITERALLY taking the crown off of Catalina Morales' head. BTW, Catalina earned her crown as Miss Universe Puerto Rico, unlike Victoria who is a self-proclaimed 'Queen.'
According to US Magazine, the flight attendant said her  "all in good fun" and that she was surprised by the backlash she's received.
Victoria's intent:
The wannabe royal dropped by Good Morning America to explain her side of the story.
"[The other contestants] knew me and knew my heart and knew that I really never have ill intent, so I think they viewed it differently just because they know me."
"I anticipated being well-received, so to get, like, the bullying messages and the hate mail and the death threats, [I] wasn't really prepared for that at all. 100 percent, it was shocking."
"I don't think my kindness really got to show through and I really do have a good heart. I actually became friends with one of the new girls,"
"Lastly, of course name calling is never OK, but I hold myself accountable and can just do better next time."
"I cannot change the past. It truly was not malicious and I am so sorry. I love each girl I met on my journey!"
"If my words or actions hurt anyone, like, I sincerely apologize and I'll do better and hold myself accountable," she said. "I'm not a bully. I'm really not."
Taking it to the 'gram:
'Queen' Victoria took to her Instagram story to share her journey. "I think in my effort to make my opinions heard it may have been perceived as bullying by some, and I feel bad if my words or actions offended anyone. I take time each day to reflect and learn the lessons."
Private apologies:
Victoria claimed to apologize "privately" to the cast mates she believes she wronged and reassured her followers that she views "all women as queens."
I wonder if Victoria is self-aware enough to even kn0w who to apologize to. Hmmmm.
Later on Instagram:
Victoria recently posted a bikini pic with the caption "Just remembered the only validation I need is for parking 💋."
The apology tour was cute while it lasted.
Keep it classy, boo.
View this post on Instagram
Watch the GMA interview for yourself!
Need more Bachelor Nation in your life?
Check out the Get'n Cozy With Erin Hill podcast for all the latest Bachelor and Bachelorette news and EXCLUSIVE interviews. Listen here for a fun chat with The Bachelorette's Mike Johnson and Connor Saeli.
Do you think Matt is really interested in Victoria, or do you think producers have her around to cause drama? Drop your opinion off in the comments!
---