Ariana Madix Responds to Rachel Leviss's Interview
"I was very much under the impression that we were good friends."
Imani Craig August 25, 2023 6:43pm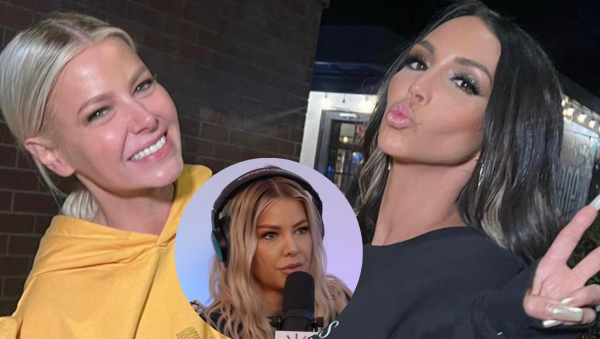 On Friday's episode of Scheananigans with Scheana Shay,  Ariana Madix opened up about life post Scandoval.
Though she has done other interviews since season 10 of Vanderpump Rules wrapped, this is the first time she's spoken her truth in such a public, vulnerable way.
In case you missed it, Rachel Leviss appeared on a 3-part episode on Just B with Bethenny Frankel. The interview spoke to Rachel's motive, mental health, and B's agenda to, "take down Bravo."
One of the points of emphasis Bethenny spoke to was the ferocity in which Rachel was treated by her fellow cast mates during the season 10 reunion. However, as the girls pointed out during Scheana's podcast, the reunion filmed just 3 weeks after the "Scandoval" bomb dropped.
"Bethenny is who I feel like should have known better and who upset me more in the things she said," Ariana began.
"Because as recently as the podcast she did after the fact, she said 'Ariana has forgiven him'. I'm like 'why are you speaking for me first of all? I don't know you. You don't know what the f*ck you're talking about lady.'"
Read below for episode highlights.
Ariana Madix: There's Just Something About Her Episode Recap
Something About Her is still progressing nicely, but city permitting caused a delay in it's opening. However it is opening SOON.
Ariana's upcoming book, Single AF Cocktails ,will feature the good, the bad, and the ugly of her relationship, accompanied by handcrafted cocktail recipes. It's also a love letter to her friends and family for the support they've provided.
Scheana says her newest relationship Daniel Wai (NY based personal trainer ) is the best relationship she's had.
Ariana is not interested in moving to NY any time soon, and will do long distance for now.
Ariana still believes that she and Rachel "were good friends" despite Rachel's claims.
Ariana clarified that that Katie and Lala were still in her "inner circle", but they didn't see her and Sandoval traveling together in their true form. They were very affectionate.
Ariana thinks Sandoval would have inevitably broken up with her after his appearance on Winter House if he hadn't been caught.
Ariana agreed with Rachel's decision to not return to Vanderpump Rules.
Rachel made $19,000 per episode.
Ariana made production aware after of the affair, and it wasn't to "save the show."
Ariana's lawyer provided proof to Rachel's team that she did not keep or disseminate the explicit video she found.
Ariana sleeps with her door locked every night since cohabiting with Tom Sandoval, and choses to not move out of her home in an effort to build a savings.
Listen to the full episode below!
---