90 Day Fiance's Loren and Alexei Brovarnik Welcome First Child
Baby Boy Brovarnik and his mama are both happy and healthy!
Ashley Hoover Baker April 15, 2020 11:10am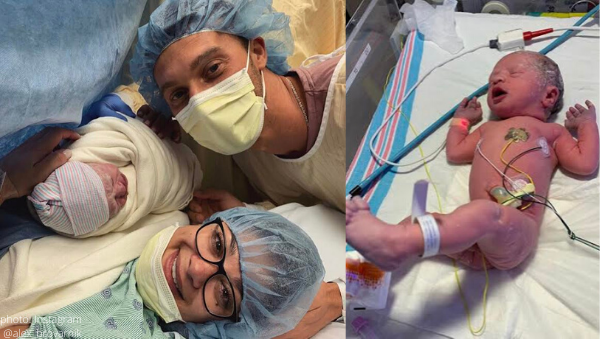 This is the news 2020 needed- Baby Brov is here!
Congratulations to 90 Day Fiance's fan favorites, Loren and Alexei Brovarnik, on the birth of their first baby. The Taste of Reality team is beyond ecstatic for the growing family!
We want the deets!
Alex took to Instagram to share the great news that both Mama Brov and Baby Brov are happy and healthy.
"And then there were 3!! Making his big debut… BabyBrov! 🧿💙 – When: 4/14/2020 – Time: 4:26pm – Weight: 5lbs, 10oz – Height: 19 inches Mommy, daddy and baby are all doing great! We will be sharing his name sometime next week l, so be on the lookout! During these crazy times, this is the smile we needed! Welcome BabyBrov!"
What's Baby Brov's 'official' name?
The first time parents plan to reveal Baby Brov's official name next week, after the brit and baby naming ceremony. (Will anyone else miss calling him Baby Brov?!?!)
A message from Mommy and Daddy Brov:
According to TLC Me, "Everything happens and doesn't for a reason. We were meant to meet our baby boy earlier!" said the couple. "With everything going on right now with the virus, this is the smile and light we needed!" They continued, "We are so beyond in love with him and even more in love with each other!"
There is MORE good news for Loren and Alex fans!
Fans will be able to see the couple's journey into parenthood on 90 Day Fiance: What Now, premiering Monday April 20 at 11/10c. It's also streaming now on TLC.com.
Need more 90 Day Fiance in your life?
I'm with you on that! If you don't listen to the hilarious 90DF breakdowns on the Pink Shade with Erin Martin podcast, you're missing out on your best 90DF life. You don't have to take my word for it- listen for yourself!
What adorable baby names do you think would suit Baby Brov? Drop baby names in the comments!
---