Travis Kelce Calls Taylor Swift His "Good Luck Charm"
The pop superstar didn't need to be in the stadium to bring the red team luck.
Staff October 9, 2023 9:05am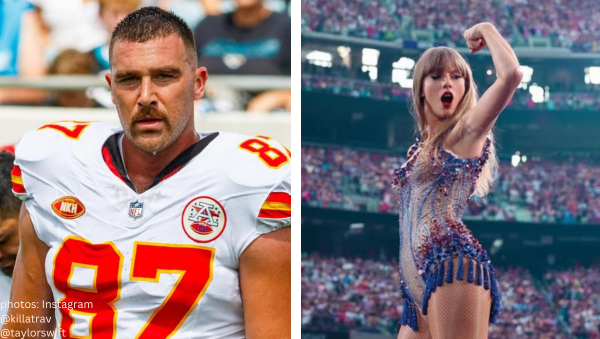 Could Travis Kelce be Taylor Swift's Endgame?
Although Tayvis *I refuse to call them Traylor* is in the early stages of romance, the 12x Grammy Award winner has been 'seemingly' happy watching the Kansas City Chiefs from the bleachers.
Taylor made two unexpected stops before kicking off the International leg of The Eras Tour in both Kansas City's Arrowhead (iykyk!) Arena and New Jersey's MetLife Stadium to watch her the 6'5″ beefcake in action.
Taylor brought luck to her new boo as 'the red team' won both games she graced with her presence.
Many football fans were vocal about wanting a 'normal' Sunday of screaming at strangers chasing a pigskin and they got their wish.
Taylor didn't attend the game in person; however, she still brought luck to Travis. The Chiefs won by 7 points!
According to a source from The Messenger, the star of E!'s dating reality show Catching Kelce has acknowledged the Cardigan singer has brought his team good fortune.
Travis "jokes she is his good luck charm."
"Taylor is having the time of her life at these football games cheering on Travis," elaborated the insider before adding, Taylor "and her friends are fully embracing this era and are having a lot of fun being there."
"Taylor has worked very hard this last year and It's fun for her to bring all of her friends along, let loose and show support."
Do you enjoy seeing Taylor cheer on Travis? Sound off below.
---