Tom Sandoval Performs Cringeworthy Chippendales-Inspired Striptease
"The jackhammer thrusts 💀."
Staff September 4, 2023 8:28am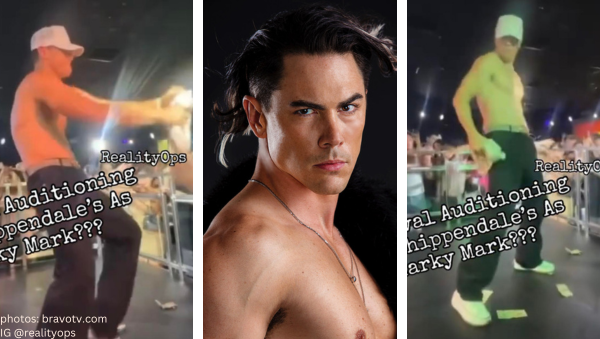 The video began with the
VPR
star breakdancing and dry-humping the stage. He continued to remove his black jacket revealing a 007 shirt. The
TomTom
and
Schwartz & Sandy
's co-owner proceeded to pose like
Zoolander
before giving a high-five to a person in the crowd.
View this post on Instagram
As always, the VanderVerse showed up in the comments to roast the trumpet enthusiast.
This is offensive to Chippendales and Marky Mark.

I have never cringed so hard

Barely anyone is cheering. Lol
Lmfaooo this just reminded me of when James made fun of his signature dance move at the reunion 😂
the jackhammer thrusts 💀
I'm just wondering how many times he danced along to magic mike in his living room before he did this in public?
This man could never love anyone as much as he loves himself.
Is it Grandpa audition night?
He really has no idea how tragic he is, does he? 😢
I didn't think it was possible to like Sandoval any less and then this post popped up and I realized I was wrong. When is he going to go away. 🤮
Yuck.. I didn't like him before scandoval. And I can't stand him anymore.. I didn't think I couldn't feel more disgusted with him
4 inch
Not the 'white man's overbite' 😂😂
What's your opinion of Sandoval's performance? Sound off in the comments.
---