Did RHOP Husband Chris Bassett Cheat On Candiace Dillard Bassett And Pay For Mistress's Abortion?
Chris "doesn't love [Candiace]. It's a fucking façade."
Staff October 16, 2023 10:59am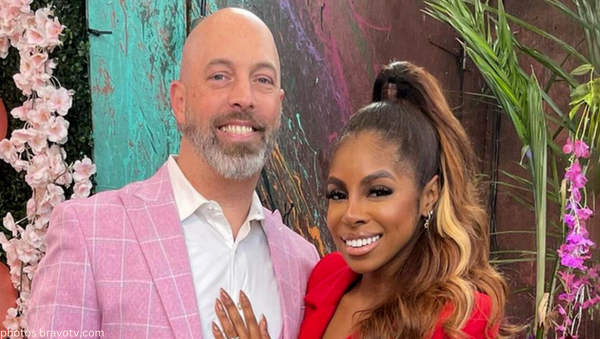 Real Housewives of Potomac husband, Chris Bassett, is being accused *again* of cheating on Candiace Dillard Bassett. Grab a cryangle stat!!
This time, the rumor wasn't manufactured by the couple's thirsty RHOP co-stars, but brought up by Chris's alleged mistress.
***Everything you are about read is a rumor thus far and will be updated as information surfaces.***
Blogger @UnWineWithTasha spoke with Chris's alleged paramour who claims to have receipts … abortion receipts and nude photos of Chris (and possibly his brown penis) … from their months-long affair.
View this post on Instagram
Chris's alleged mistress FaceTimed with Tasha K who confessed she and Chris shard more together than just sex.
"He told you he loved you," asked the blogger.
"Yes. Yes, ma'am," revealed not-Candiace before admitting she had the abortion "12 weeks" ago.
The other woman appeared angry and hurt as she explained the Dillard-Bassett union is one of convienence.
"If I would have had that baby, it would have been a whole situation. If I had his baby, [Candiace] couldn't be on the show, and their whole situation … they'd have to get rid of it."
According to Chris's alleged mistress, their marriage is a hoax.
"Let it be known – [Chris] doesn't love her. It's a fucking façade."
After acknowledging the irony of Candiace being a 'Real' Housewife – "All you do is lie about your storyline" – Chris's alleged side piece continued to slam the Drive Back singer.
"He's with a horrible woman and he's trying to please her cuz she wants to have a storyline and she wants to be on this show."
According to @ayannawilliams22 she is the alleged mistress to #RHOP #CandiceDillards Husband.. 😳🥂

FYI- she claims she was high on only weed in this video.. pic.twitter.com/nwbP4VnI0K

— Tasha K | UNWINEWITHTASHAK (@unwinewithtasha) October 12, 2023
Do you think there is truth to this rumor? Drop your opinion below.
---