RHOC's Shannon Beador Reveals Her Daughter's Coach Died On Plane With Kobe Bryant
Christina Mauser coached all three of Shannon's daughters in middle school b-ball.
Ashley Hoover Baker January 27, 2020 12:27pm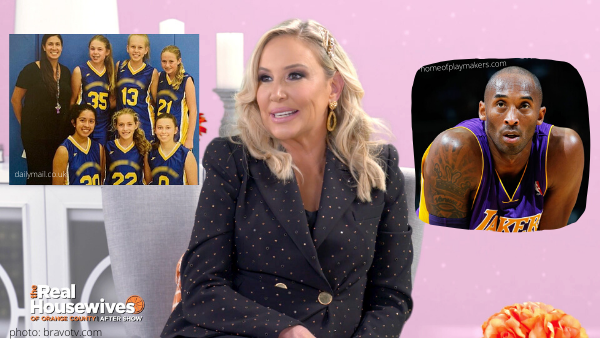 This story keeps getting more and more tragic.
Real Housewives of Orange County's Shannon Beador reveals her daughter's basketball coach, Christina Mauser, died on the plane with the legendary Kobe Bryant. The Taste of Reality team sends our deepest condolences to everyone affected by this tragedy.
Christina was one of the passengers on board Kobe Bryant's helicopter when it crashed and burst into flames on Sunday, January 26th, 2020. Shannon took to Instagram to share a heart felt message to all three of her daughters' middle school basketball coach.
"Christina Mauser. An incredible coach and amazing influence on all three of my daughters that played basketball in middle school. And amazing mother of 3 children. Our greatest sympathies go out to @sinatrabigband and his family. The Beador girls are devastated. Sending our prayers to the Mauser family… 🙏🏻."
Christina was married to 'Tijuana Dogs' singer Matt Mauser, who confirmed his wife's death on Sunday. Matt posted the following message to social media. "My kids and I are devastated. We lost our beautiful wife and mom today in a helicopter crash. Please respect our privacy. Thank you for all the well wishes they mean so much."
On Monday, the now-single-dad called into the 'Today Show' to speak out on losing his wife who he called a "beautiful, smart, funny" person. "It's horrible," he explained to Hoda Kotb and Savannah Guthrie. "It's horrible. I've got three small kids, and I'm trying to figure out how to navigate life with three kids and no mom."
Matt explained how Kobe hand-picked his wife to help mentor his protegés. Their helicopter was headed to his Mamba Sports Academy in California at the time of the crash. "He didn't choose Christina for just any ordinary reason — she was extraordinary," explained the proud husband. He added that his wife was "warm," "incredibly bright" and "funny like nobody you've ever met."
Sophie Beador, Shannon's 17 years old daughter, posted the same photo as her mom to her Instagram story, writing: "I will forever be heartbroken … Your spirit and passion for basketball was so inspiring to me. I wish I could give you a big hug one last time. You will forever be my june bug. Praying for your family. Rest easy."
Shannon's 15-year-old daughter, Adeline Beador, thanked Christina for "always caring about me and being my second mom." She also wrote, "to the person who shaped me into who i am, i am heartbroken," on her Instagram story.
Pilot Ara Zobayan, college baseball coach John Altobelli, his daughter Alyssa Altobelli and his wife, Keri Altobelli, were also killed, in addition to Kobe Bryant, his daughter, Gianna Bryant, and Christina Mauser all tragically lost their lives in the aircraft on Sunday.
The news of the innocent lives lost in Sunday's tragic accident has left the world feeling helpless. This was an unfortunate reminder to live life to its fullest and value every moment of everyday.
Are you as broken up by this news as we are? Drop your well wishes for the families trying to heal in the comments!
---