Racism In America Brings Real Housewives And Bravolebrities Together For Roundtable Discussion
Join Porsha Williams, Garcelle Beauvais, Leah McSweeney, Kandi Burruss, Gizelle Bryant and more to share their perspectives on race relations.
Ashley Hoover Baker August 6, 2020 11:42am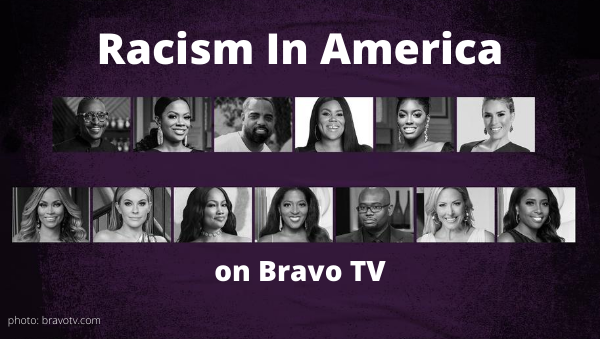 Just because black boxes aren't dominating our social media pages and the news cycle has moved on doesn't mean that there isn't a focus on the Black Lives Matter movement on Bravo TV. Many of your favorite Real Housewives and stars from Married to Medicine and Top Chef are participating in Racism In America: A Movement Not A Moment, a discussion on current race relations in America.
The Bravolebrities:
This is the best line up of Bravo talent since BravoCon.
Appearing on Racism In America are Real Housewives of Atlanta stars Porsha Williams, Kandi Burruss, and Todd Tucker.
Joining the RHOA cast members to share their perspectives on the current climate are Real Housewives of Potomac's Gizelle Bryant, Real Housewives of Orange County's Braunwyn Windham-Burke, Top Chef 'chef-testant', Gregory Gourdet, and Married To Medicine's Dr. Britten Cole, Dr. Simone Whitmore, Dr. Eugene Harris & Toya Bush-Harris.
A-list actress and Real Housewives of Beverly Hills newbie, Garcelle Beauvais as well as RHONY's newest cast member, Leah McSweeney, will also be part of the discussion.
Just so you know, Racism In America producers Dorothy Toran and Leslie D. Farrell said that they chose each Bravolebrity themselves, noting that no one declined the invitation to participate on this panel, as per reports from PageSix.
What to expect:
The "This is unlike any other conversation," explained Dorothy Toran to Page Six. "You could talk to someone and have a conversation with them for every day for five years and you would never have a race conversation. So I think when you open the door to a race conversation you will be surprised at what everyone says."
Leslie D. Farrell added, "What's fascinating and surprising is to hear — and we always think this — when someone is either well off or they're on television or whatever, well [race-related incidents] don't really happen to them," she explained. "We get it that it happens to us, the normal people, the ones behind the scenes, right? So I knew my experiences and Dorothy has hers, but to hear some of their experiences, it's like, 'I've experienced that!'"
Watch the preview here!
Racism In America: A Movement Not A Moment airs Sunday, August 9 at 10pm on Bravo.
Don't want to miss any Bravo news and gossip?
Which of the Bravolebrities' stories are you most excited to hear? Drop names in the comments!
---