BiP's Jacob Rapini Takes Accountability For Not Being Able To Make It Work With Jill Chin
"You gave 100% while I gave 80."
Ashley Hoover Baker December 5, 2022 7:06am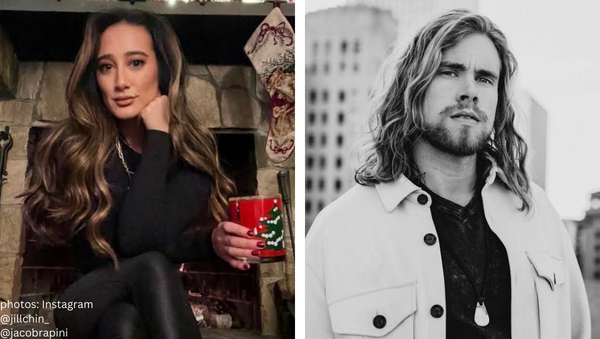 Bachelor In Paradise favorites Jill Chin and Jacob 'Tarzan' Rapini have split up … again.
Both parties took to Instagram to share their news; however, Jacob's caption gave insight into what went wrong.
Jacob penned, "You were the right person at the wrong time" before taking accountability for not giving himself fully to Jill.
"You gave 100% while I gave 80. You pushed me to look for quality work, change my schedule, and focus on my family instead of hollow relationships. You asked for better communication while I was lacking. You showed up when I didn't. Trust was lost."
The Bachelorette season 19 suitor continued to address the root cause of why he couldn't give Jill what she needs/deserves.
"Yes, distance was a big factor for me. Being 2,000 miles away comes with its share of challenges but that wasn't the main reason. It was readiness of commitment. I appreciate you [Jill] making me recognize this at the cost of you trying to make it work."
Fans saw a grand gesture at the BiP8 reunion, but what the relationship lacked was the small stuff.
"We had talked before the reunion and we were both open to giving it a go. At the reunion, I wanted to show you a glorious moment to somehow undo the pain I caused in Mexico."
"But it isn't about the big moments. It's about the little things. I wasn't there to give you my whole heart because of my insecurities. I have a lot of refinement to do before I can mentally and spiritually be there.
Jacob concluded his post by speaking directly to Jill.
"You deserve to be loved. Right now, I deserve to be alone. Good luck on your journey angel🖤"
View this post on Instagram
Jill's break-up post promised she'd stay true to herself as she continues to grow.
"Thank you all so much for the love and support you have shown me along the way… It means more than you could ever know."
"Although I didn't find my partner, I left with knowledge that allows me to better navigate difficult situations, and a greater sense of self. I did the best that I could, and will continue to be better."
"I encourage everyone to embrace their differences, stay true to who you are, and never forget that you are worthy of love and acceptance."
View this post on Instagram
Do you think Jill and Jacob could possibly find their way back to one another? Sound of in the comments.
---