Matt James Hopes For An 'Institutional Change' In Bachelor Nation
The Bachelor said the recent saga over the Antebellum party has been "devastating" and "heartbreaking" on several levels.
Ashley Hoover Baker February 23, 2021 3:05pm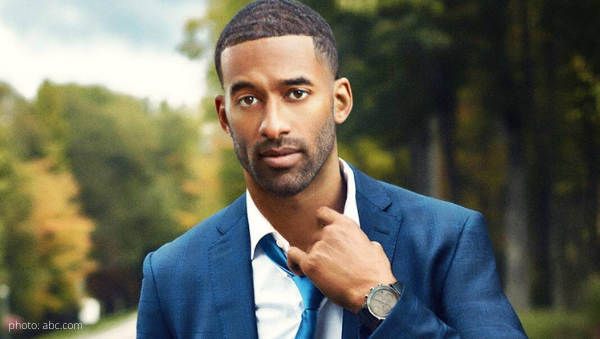 Will you accept this rose opportunity learn the history of the Antebellum south and how defending the nature of such a 'party' is both disappointing and painful for many to watch?!
The first black Bachelor, Matt James, made a statement regarding the recent happenings regarding finalist, Rachael Kirkconnell, The Bachelor's host Chris Harrison, and former Bachelorette Rachel Lindsay calling the situation "incredibly disappointing," "devastating," and "heartbreaking."
In case you need a quick catch up:
After photos surfaced of Rachael K. at an Antebellum party in college, Chris joined Rachel L. on Extra and wrongly spoke "in a manner that perpetuates racism."
View this post on Instagram
Matt speaks out:
The real estate broker and entrepreneur took to Instagram to share his journey in processing everything that's happened in the last several weeks.
View this post on Instagram
Moving forward:
Chris has taken accountability for his "excusing historical racism" and continual use of the term "woke police." He's even taking a step away from Bachelor Nation "for a period of time" during his journey to become an "anti-racist."
View this post on Instagram
According to ET online, Rachel L. is having difficulty accepting Chris' apology. "When I finished that interview with Chris Harrison, he had no problems with it. He was fine. He texted me after. He appreciated the conversation. He was like, 'Yeah, I'll probably get a little flack.' He thought it was great that we could disagree but do it in a civil way."
The media personality/ attorney continued, "It wasn't until the backlash came next, it wasn't until people started talking, people started demanding and calling for different things that he then apologized to me and then apologized publicly."
In a statement on the 'gram, Rachael K. apologized and hopes to "earn your forgiveness through my future actions."
While Matt reflects on his experience as The Bachelor, his "greatest prayer is that this is an inflection point that results in real and institutional change for the better."
Want to stay up-to-date on all things Bachelor Nation?
Check out the Get'n Cozy With Erin Hill podcast for the latest news and gossip as well as EXCLUSIVE INTERVIEWS. Here is the most recent episode.
Do you believe institutional change is coming with Bachelor Nation? Sound off in the comments!
---