What is Poosh? Take a Tour of Kourtney K's Website
As it turns out, Kourtney does have a successful business she is passionate about!
Imani Craig July 5, 2019 8:53am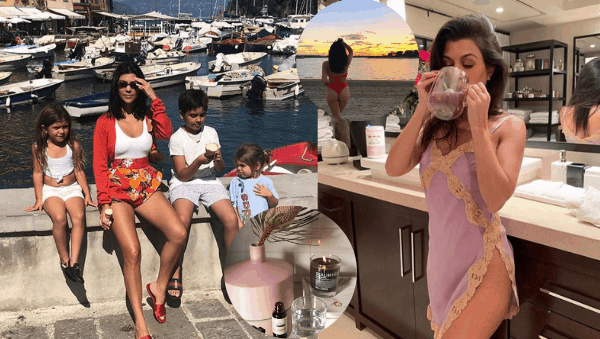 On April 2nd, Kourtney Kardashian launched her very own special corner of the internet… a place where she can encourage and inspire readers to live their very best healthy lives.
WHAT IS POOSH?
Kourtney's mission on Poosh is to educate, motivate, curate and create a modern lifestyle achievable by all. Basically, you don't have to be a celebrity to achieve a healthy and active lifestyle. Poosh is totally free from judgment. It offers alternatives and ideas on how to live in moderation and not have to "all or nothing" any bad habits out of your life.
The main topics range from Health + Wellness, Life + Style, and Home + Entertaining. Let's dig in to each one…
HEALTH + WELLNESS
In the health and wellness section, you can find a wide range of articles from the importance of cheat days, how to make a post-sun oatmeal face mask, how to get yourself out of a funk, all the way to 10 minute at-home-workouts.
This category is the one I think everyone needs to bookmark! We run ourselves ragged throughout the week with the demands of life that we forget to just step back and enjoy it. This category helps you find that inner peace, because we all need it.
LIFE + STYLE
Calling all fashionistas, this is the spot of the website you are going to want to keep up! Here you can shop for top picks recommended by Kourtney, pump up your style with helpful tips and then have FOMO of all the picturesque locations Kourtney jets off to.
HOME AND ENTERTAINING
Finally! The section of the website where we are able to proverbially jump inside the Architectural Digest mind of Kourtney Kardashian. I lust over all the designs and ideas Kourtney has when it comes to decorating and entertaining, so this is right up my alley! There is something so inspiring about organization and planning and even more so having the best-of-the-best teaching you how to do it.
OH! And healthy recipes are featured in this section. I'm not fully brave enough to commit to making vegan pesto so I'll just leave that to you all.
You can stay up to date on all these Kourtney Kardashian in her personal tab, connect with her linked social media accounts, and provide your email to never miss a beat.
THE LOWDOWN
If you are looking at this like the other Kardashian social ventures- aka the app- don't. For starters, this is completely free, unless of course you want to make an impulse buy.
Poosh is relatable to all women who are wanting to make an active change or women who want to connect with another part of themselves.
As it turns out, Kourtney does have a successful business she is passionate about!
Take a tour for yourself, and tell us what you think!
---