VPR Frenemy Update: Stassi Schroeder and Kristin Doute
Kristen claps back and calls Stassi out for ghosting her.
Ashley Hoover Baker October 17, 2019 1:11pm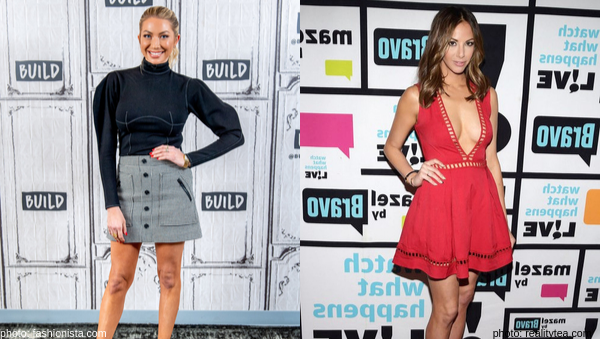 It doens't look like Vanderpump Rules 'frenemies,' Stassi Schroeder and Kristen Doute will be in good graces any time in the near future. Stassi has been vocal on where her friendship stands with her former bestie, but Kristen recently clapped back and called Stassi out for ghosting her.
Stassi is putting her own mental health first by taking a break from her friendship with Kristen. The VPR cast are proud stans of the iconic television sitcom, Friends, so this seemed too perfect…
"If taking a break from someone is a bitch move and makes me nasty, then I don't give a f–k," Stassi spilled on her podcast, Straight Up With Stassi. "Am I gonna look like the a–hole in this situation or is she? I have no idea." The New York Times bestselling author continued, "I'm prepared to look like the a–hole, but whatever it is, I'm like, 'Listen, I have to take care of my own mental and emotional health first.'"
Girl, I feel that. Let us never forget that Kristen had an affair with Stassi's then-boyfriend, Jax Taylor, when she was dating Jax's best friend, Tom Sandoval.
Kristen has been much more quiet than the outspoken Stassi, until she made an appearance on the Be Here For a While podcast. She admitted she and her former friend "clearly had a falling out," but dished that she wasn't sure what she did. (Anyone else getting Lauren Conrad and Heidi Montag vibes?)
Sorry. I digress…
Back to Kristen. She said, "I don't totally understand it and hopefully I will find a way to understand it and also find peace with it." The fired SURver continued, "Because it is really hard, especially going through my breakup with [Brian] Carter that I am sure lasted far too long for so many people, but I'm sorry it was my f—king relationship."
It sounds to me like Kristen already knows what pulled her and Stassi apart….
Stassi may need some time off from her friendship with crazy Kristen (she earned that nickname), but she admitted, "It doesn't mean I don't care about her. I absolutely do. Sometimes you just can't be in the same room with someone without wanting to kill them.
I attended the Vanderpump Cocktail Garden opening party in Las Vegas and got to chat with Lisa Vanderpump herself (who I made laugh), and most of the main cast members. There was some shade thrown (well deserved, may I add…) and a story about Crazy Kristen! Click here if you'd like to listen!
Do you think Stassi and Kristen will mend their broken friendship? Drop your opinion in the comments.
---