Vanderpump Rules Stars Talk About New Cast Members
They spill the good, the bad, and the thirsty at Bravo Con.
Ashley Hoover Baker November 19, 2019 8:07am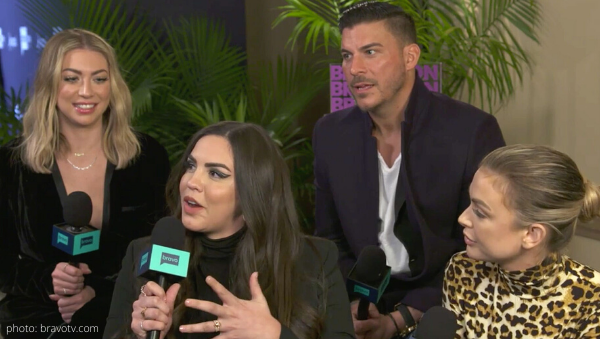 Returning Vanderpump Rules stars dish on new cast members. They spill the good, the bad, and the thirsty at the first ever Bravo Con. Expect some drama from the new season premiering in January of 2020, as several OG VPR cast members are not fans of the new SURvers.
Let's start with the messiest OG cast member, Jax Taylor. The lousy bartender and questionable human being told US Weekly, "I don't like the new people." The 40 year old newlywed clarified, "Except for Brett [Caprioni] and Max [Boyens], I really like them. They're really cool. They're down to earth. They're not thirsty. We've been around for eight years. You can see a thirsty person coming a mile away. There's some of them. There's a few of them."
So, I guess it's safe to say Jax isn't a fan of Charli Burnett, Danica Dow, or Dayna Kathan. Cool story, bro. Jax wasn't the only one talking though. Lala Kent agreed that the newbies are looking for attention.
The SUR hostess, frequent 'PJ' flyer, and soon-to-be Mrs. Randall Emmett noted how thirsty her new colleagues are. "Oh, yeah. Throw them some Aquafina, for real. It's crazy." The Give Them Lala beauty mogul continued, "But you know what? I haven't seen them on camera yet, and they could really have …"
"No, we've seen the first three minutes [of the premiere]. … They're just thrown in your face right away," interrupted Scheana Shay, possibly the thirstiest person at SUR.
Lala and Scheana's back and forth banter gave Bravoholics some insight into how reality tv works. After Scheana joked that "we just get rid of them" if the audience doesn't like them, Lala added, "It's cutthroat!"
SUR's Khaleesi, Stassi Schroeder, joked that she is "thirsty too." The New York Times best selling author's boring BFF, Katie Maloney, revealed that the original cast didn't cross paths much with the newcomers. Mrs. Tom Schwartz told US Weekly, "The thing is we don't know a lot of them." The ultimatum queen continued, "When we started this show it was our real group of best friends and these are people that have just met at SUR, they didn't know each other before so it's kinds of interesting. It's a different dynamic because they didn't have the history that we have. So you can't really compare us to them."
Leave it to crazy Kristen Doute and her former nemesis, Ariana Madix to deliver some positivity to the situation. Kristen noted that the new season will be, "be fun to watch," while Tom Sandoval's girlfriend added, "They're all my friends, and I love them all," before reminding us, "Jax is thirsty, so I don't know why he would say anything about anybody else."
Ariana, 1. Jax, 0.
I was fortunate to attend the opening party for Vanderpump Cocktail Garden in Las Vegas earlier this year. I got to hang with several of the cast members, and even the legendary Lisa Vanderpump at the event. I recorded an episode of the On This Day Entertainment podcast breaking down my experience and my Bravolebrity run-ins. Click here to listen for yourself!
Are you excited to meet the new SURvers on the season premiere of Vanderpump Rules on January 7, 2020? Sound off in the comments!
---