Vanderpump Rules Recap: A Decent Proposal
Season 7 - Episode 1
Jennifer Ray December 4, 2018 11:05am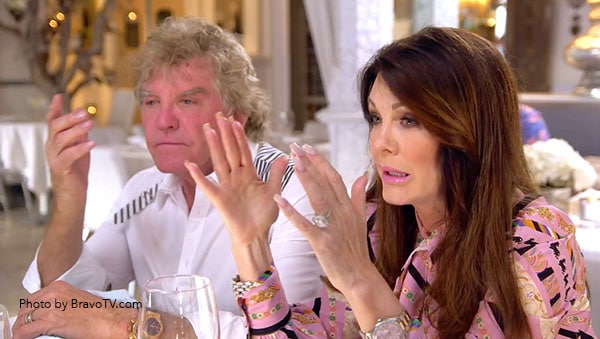 I'm going to open my Vanderpump Rules season premiere article with this: find you a job that you love going to like the people on Vanderpump Rules. Granted, you won't be on TV or make near as much money, but it'll be nice to not feel the need to hurl yourself out a window every time your boss says your name – as I do.
Yes, we're back and it's another day in paradise at SUR. Lala Kent and Scheana Marie arrive while having a deep conversation about the amount of skinny they prefer to be. Tom Sandoval and Ariana Madix check in while James Kennedy and his girlfriend, Raquel, make their way to James' DJ booth.
Meanwhile, Brittany Cartwright is at home getting ready for work while Jax Taylor makes HER a sandwich. It appears that Jax has done a complete 180, working hard to be the man that Brittany deserves. He even turned down the imaginary hockey job just to stay with her. That's love. While Brittany has moved past ALL of the crap he put her through, others have not, particularly James. Apparently, during one of the #seeyounextTuesday events, the "white Kanye" decided to throw in a little rap freestyle that included a verse about Jax sleeping with Faith. Wwweeellll, Brittany just happened to be standing in front of the DJ booth when he said it.
This obviously made Brittany upset, which means that James had the opposite reaction: he tells Sandoval that it was awesome. You know what else is awesome? Jax doesn't work at SUR anymore so now when he feels like punching James back to England, he can actually do it. And by the sound of the text messages he's been sending James, it looks like Jax is a little closer to making that happen.
Before James can give us more reasons to not like him, our queen, Lisa Vanderpump, and her husband, Ken, arrive. She greets Lala first and they discuss the tragedies they both experienced over the summer. Lala lost her father after he suffered a stroke, and Lisa lost her brother who committed suicide. After taking just over a month off, Lisa has returned to work, putting it best when she says "it's important to move forward to make those that we've lost proud as they watch over us." Beautifully said.
Leave it to James and Jax to ruin a beautiful moment. Jax drops Brittany off at work and decides it's the perfect time to confront James. He walks into SUR, straight to the DJ booth where James is standing, his eyes as wide as his mouth. Jax wants James to talk with him outside, but James isn't completely dumb, he knows it's safer behind the DJ glass. Jax starts in on him and then James, who in his confessional said he wasn't sorry about his rap, starts apologizing and telling Jax how terrible he feels. Why does he feel terrible? Not because he hurt Brittany's feelings. Because Jax bought James some fancy underwear as a gift and then James had the audacity to pull this stunt.
Meanwhile, Lisa is right next to them talking to Sandoval who tells her about James' comments. I bet you didn't know Lisa has rap skills, too. She puts together a 4 line little ditty about how Jax is going to kick James' a$$. Sorry, James, but you had that coming. Eventually, Jax says his peace and then leaves while Lisa apologizes to Brittany for James' behavior. And that's the end of that, at least for this episode. PS: what did happen to Faith?
Anyway, Jax switches it to positive and meets Tom Schwartz, Stassi Shroeder and Stassi's new boyfriend, Beau, for a drink. First, Beau is 164 times better than Patrick. FACT. And it's nice to see Stassi with someone who doesn't make her feel like she needs to pretend she's forgotten what words are. Unfortunately, now would probably be a good time for her to not be able to talk as Jax has just announced he's going to be proposing to Brittany and nobody else knows. Stassi expresses how happy she is for them and how she's really noticed a change in Jax. This moment immediately turns dark when Stassi goes into her "if you hurt her I will kill you" rhetoric. She's going to have to kill someone eventually or come up with a new threat.
The next day, Stassi and Brittany take their fur-babies to the dog park and while the pups play, Stassi and Brittany chat. Brittany brings up the changes Jax has made and how their relationship has improved dramatically and watching Stassi keep quiet and try to not make faces was the highlight of the show for me. Then, Brittany hits us with a whopper and tells us all about sleeping with her ex-boyfriend while she and Jax were broken up. I know, right?! Still, Stassi holding in her I-have-a-secret Tourette's faces is my favorite moment.
While Stassi does her best to not ruin the surprise, Lala, Katie Maloney-Schwartz, and Kristen Doute get together to pierce things. The topic of discussion: James and his inability to be a decent human being. Apparently, James and Lala are no longer friends primarily because of all of the comments he made about Lala's boyfriend, Randall. Oh yes, Lala can now speak freely of him since he's officially divorced. His name is Randall, he's a famous movie producer, and we already knew this because internet. Anyway, the women talk about James and his rap disaster, with the conversation ending in Kristen calling herself the karma police and how James is going to get his karma for what he did to "her" Brittany. Personally, I'm more scared of a Kristen who's really into being my friend than I am of a Stassi who talks about murdering me. But that's just me.
While they talk karma business, Tom squared talk actual business with Ken and Lisa. As of late, they were supposed to have put a cocktail list together for Lisa to review. How do you think that's gone? Well, they've arrived with no list and the drinks they've come up with are too fancy, too costly and also too hard to judge as Lisa doesn't even know what's in them or what they taste like. To keep the boys on track Lisa has recruited the services of her daughter Pandora, which upsets Sandoval as he feels this takes away from the entire point of the bar being called Tom Tom.
From there, Tom Tom meet Jax at a jewelry store where he has enlisted the services of Kyle Chan to design Brittany's ring. Jax fills them in on his engagement plans and Sandoval is a little shocked. "It's not weird that he's getting married before me and Ariana", he proclaims with a non-believable face. Sandoval tells Jax that he hopes he isn't proposing because of what he went through with his dad, to which Jax replies "of course it is!" By that, he meant if there was someone who loved him enough to take care of him like that then why wouldn't he want to spend the rest of his life with them? On top of that, Jax was able to pay for the $70,000 ring with the money his dad left him. Yeah, $70,000! I think we can all agree that Brittany is worth it.
The next day Brittany and Jax head to Malibu where he plans to pop the question. It's not going to be easy either. Jax likes to wear tight clothes and after trying a couple of places on himself, he opts for hiding her ring in his crouch. They eventually make it to Neptune's Net and order their date night dinner.
While Jax tries not to poop himself, Stassi does the same thing at Katie and Schwartz's apartment. Kristen and Katie tell Stassi they think something is up with Jax, with Kristen stating she believes he's going to ask Brittany to marry him. After some back and forth, Stassi cracks! She tells Kristen how intuitive she is, but because Kristen can only hear herself talk, she keeps reading texts to Stassi and explaining her theory. Finally, Stassi shuts her up and tells her that yes, in fact, Jax is proposing.
Jax is full on freaking out to the point where I believe he ordered everything on the menu because he can't think straight. He returns to the table, and when their order number is called, gets up, asks for a tray, and arrives back at the table, serving Brittany a ring box instead of a meal. He gets down on one knee, and Brittany and everyone who has a soul begins to cry. Brittany is engaged! And yet, Stassi holding her expressions together is STILL my favorite moment of the show.
Are you as excited as I am that #PumpRules is back? What was your favorite moment from the premiere? Comment below!
---