Vicki Gunvalson's Daughter Briana Hospitalized For Heart Complications
Her husband Ryan reveals that the reality star's daughter was taken in for irregular heart rhythms
Genny Glassman April 6, 2018 8:31am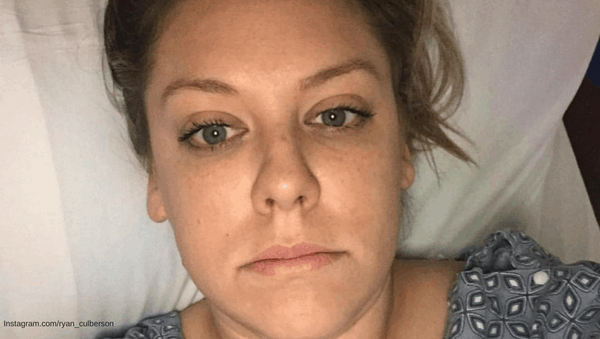 After a tense stay in the hospital, Briana Culberson, the only daughter of Real Housewives of Orange County's Vicki Gunvalson has returned home safe and sound to her husband and children. The 31-year-old thyroid cancer survivor is "at home resting with Ryan and the boys" after having a heart procedure performed in response to inflammation around her heart and lungs.
Culberson, who also suffers from lupis, was admitted to the UNC Health Care in North Carolina on Wednesday where she received cardiac ablation to destroy tissue around her heart that were giving her irregular heart rhythms.
Her husband Ryan spoke out about Briana's health on social media, "Please keep my wife in your thoughts and prayers!" the marine pleaded on Instagram. "Her lupus is causing inflammation around her heart and is causing it to go in and out of irregular heart rhythms now requiring her to have a cardiac ablation." Briana and Ryan share two sons, Troy, who is 5, and Owen, who is 3.
Though the procedure is risky — the Mayo Clinic reports that risks include infection, blood vessel damage, damage to your heart valves or hearts electrical system, and even stroke or heart attack — it seems as if Briana has made it through her surgery in good condition. Ryan posted again shortly after Briana was released from the hospital, writing that Briana is "home resting peacefully," after a "rough couple of days."
And yesterday we finally heard from Vicki who had been uncharacteristically silent when the news broke about her daughters procedure. "Thank you everyone asking about Briana. She is at her home in NC resting with Ryan and the boys. You are all so sweet. #LOVEMYDAUGHTER #LUPUSSTINKS"
Ryan even wrote on instagram that Briana was cleared to go on a family vacation on the Disney Cruise Lines, which hopefully means the storm has passed for Briana and her family.
Let us hear you warm wishes for Briana in the comments!
---