Vanderpump Rules Recap: The Reunion Part 2
Season 6 - Episode 23
Jennifer Ray May 15, 2018 8:54am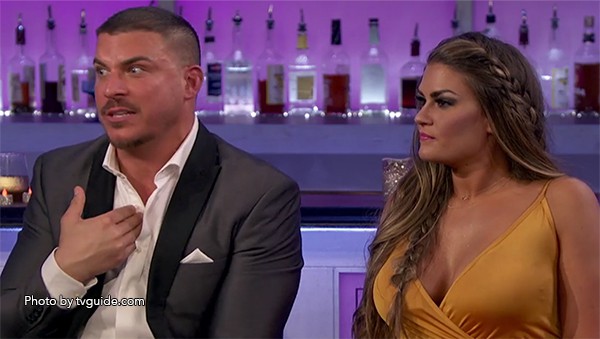 Aaannnndddd we're back! Unfortunately, we're back at Jax Taylor screaming at Scheana Marie for not reaching out after his father passed away. After an additional application of makeup, Scheana returns to the set.
It's not all about Scheana, however, so the attention turns to Lala Kent. Andy Cohen asks about her boyfriend and the "married man" rumor; her response is he was legally separated and she doesn't consider it an affair. He then asks about all of the gifts she receives from him and, well, yeah, she gets expensive presents, but um, she also has to pay the bills on some of them – for example, her rent. I mean, really, cut her some slack. SHE HAS TO PAY HER RENT! Jesus. Scheana chimes in with a "he gives her materialistic things" comment and let's just chalk it up to her being a tad jaded. James Kennedy appears to be a little jaded as well; he comments on her situation to which Lala responds with a reminder that he's living with a guy, rent free, who also pays all of the bills. I'm sorry, what was that, James? In addition to James being called out on his "your man buys you things" comment, he's also asked about the "fat guy" comments. He apologizes like he always does but Lala isn't having it. Side note: I shouldn't speak for everyone but I think we were all having it when Lala was talking about driving an I8, comparing herself to Lisa, to which Lisa replies "it's not like Lisa because I work for what I want." #teamlisa
In addition to being questioned about her boyfriend, Lala is also asked about her stance on feminism. She doesn't fancy herself a feminist, she's just trying to add some value to the vagina – that's the best way I can put it. You may not agree with Lala but Brittany Cartwright sums it up best when she says that it's nice to have women build each other up instead of tear each other down, something that happened to her when she gained all of her weight. She's got a point.
Who didn't have a point was Kelsey the "I cure things with rocks and tapping" Reiki master. Jax is questioned about Kelsey and before he can answer, the cast chimes in – primarily Stassi Schroeder. Stassi calls Kelsey's advice gross, accusing her of trying to break up Jax and Brittany. Everyone agrees, Jax pretends he has no idea what everyone is talking about. Brittany says that at first, she was OK with Jax and his rock therapy but when she saw the show she saw what we all saw: Reiki is pretend. While Kelsey's "help" was exactly the opposite, Jax at least acknowledges that he was responsible for all of the mistakes he makes. He's made these kinds of admissions before but that was seasons past and this is season 6 – it's different.
In addition to being asked about his questionable therapy, Jax is also questioned about Faith. The reunion part 1 left us with the teaser: did Jax sleep with Faith more than once? His answer is no. Does anyone regret giving Brittany the intel on the Faith situation and the recording? The answer to that is also no. Andy then asks about the "f*** Jax" party and the response is a cumulative "we didn't want Brittany to go back to Kentucky so we tried to show her we liked her and not Jax." #same
Jax isn't the only one being questioned. After a season of hating, Katie Maloney-Schwartz is asked why, after criticizing Lala for flying on private jets, she flew on one of those private flights with Lala. Scheana says it was because she got invited, Katie responds with an explanation of who she is now. In case you missed the episode, Katie has been working on herself, letting go of the anger from her accident. You see, almost ten years ago, Katie almost died from injuries resulting from a fall through a skylight. She miraculously survived and is now dealing with the emotions from the accident. She's spent this entire time trying not to hate herself, and Scheana thinks she's being fake. Of all people, SCHEANA THINKS KATIE IS BEING FAKE. OK, Scheana.  Anyway, Katie has let go of that anger which is why she's over the Lala feud, she's over Stassi's tantrums, and she's over all of the mistakes Tom Schwartz has made. Lisa Vanderpump, however, is not OK with it.
We're pretty much caught up at this point. Other things that happened were Stassi was asked why she lost her mind when the stripper was asked if a shot could be taken off her bum. (The answer is Stassi was drunk, Patrick was being a dick and that was her reaction)
James' dads' situation is discussed and Lisa talks about James maturing and no longer being the idiot he was a season ago.
Andy asks Scheana about trying to set up Brittany and Adam, to which Scheana responds with the answer we've known: she wants Brittany to be with anyone other than Jax.
Finally, we're joined by Billi Lee, our favorite! She's still hanging out with Jeremy despite Stassi and Kristen Doute being dicks about him. Then we learn that when you want a perfect vagina you need to research porn and go to Thailand. Billi watched porn to find her perfect vagina and she got it. Mazal Tov. The "Jeremy is creepy" comment is addressed and immediately dismissed. Billi is officially our favorite.
Part 3 of the reunion airs next week and even though I feel like we know everything, it's obvious we don't. What do you think will come out next week? Comment below!
---