Vanderpump Rules Recap: Vegas!, Baby?
Season 6-Episode 13
Jennifer Ray March 6, 2018 10:28am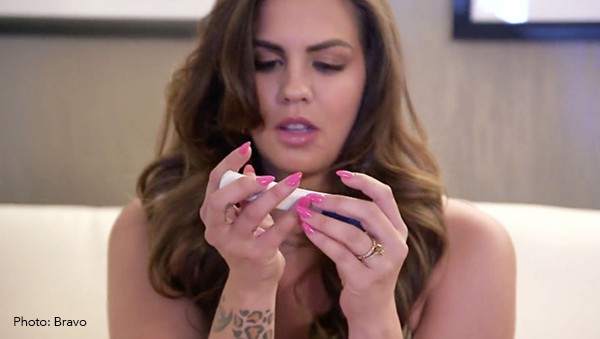 As a woman in her thirties, I have my fair share of drunk stories. Like the time I was drunk at Taco Bell and was screaming my order at the cashier because I was convinced he couldn't hear me. Or the time my friend and I drove to Austin in an attempt to try and meet Farrah Abraham, which we drunkenly did after a few beers and a couple of glasses of wine. There are more, none of which I'm proud of (except maybe the Farrah story). And yet, despite some of these memories (the ones I can remember anyway), when I watch Vanderpump Rules the cast somehow manages to make me look sober. For that, I will always be a fan.
It's Vegas trip time but before we go there, SUR has reopened a week and a half after the fire and everyone is back at work. Tom Sandoval and Jax Taylor compliment the new chandeliers, Lisa Vanderpump informs Tom they're made by the designer they'll be meeting in Vegas. The whole reason for bringing the Tom's to Vegas is so they can get an idea of what it's like to work like Lisa, so it's the perfect time for Jax to mention that he will be accompanying everyone on this trip. And the problem with that is??.. Look, I couldn't believe Lisa was allowing him the time off to go either, but it turns out he apologized for being a dick. Except, and I'm no cinematographer, but the clip of him apologizing seemed very circa 2014.
Meanwhile, Katie Maloney-Schwartz and Tom Schwartz pack, all while explaining to Schwartz that this is a business trip, not a fun trip. But Jax is going so what do you, the audience think what kind of trip it'll be? They arrive in Vegas and it turns out, Lisa has arranged for suites for both Tom's, while Jax and Brittany Cartwright have to stay in a regular room like the rest of us peasants. The drinking begins immediately, a celebration of the Tom's growing up. Oh, and in case you were wondering how Jax feels he's not jealous at all. Like when a girl tells you she's not mad. They all take the party down to the pool and drink even more, but don't worry, Schwartz says he won't cross the line and ruin this opportunity like he hasn't done in the past.
After drinking all day in the heat, the guys gamble and Katie and Ariana Madix do their makeup together, because, and you won't believe this, Katie is pretty cool when she's not around Stassi Schroeder and Kristen Doute. Brittany shows up at the suite and surprises the girls with a pregnancy test that she wants to take because she's been getting sick everywhere and also, she isn't on birth control. Her and Jax do what Katie refers to as "pray and spray" my inner 16-year-old laughed. The girls finally join the guys and Brittany pulls Jax aside to show him the pregnancy test. Wait for it…. Brittany isn't pregnant. It must be something in the water because, as Brittany explains, if they lived in Kentucky they'd have 2 kids by now. Surprisingly, Jax is kind of disappointed she's not pregnant because he's getting older and he would pride himself on being a good father. This would've been a good time for that montage of his past that they showed last week. As if Jax hasn't been disappointed enough, the gang has drinks at the robotic bar where he learns that he can be easily replaced by machinery. After getting a glimpse of his future everyone spends the rest of the night drinking and gambling, returning to their rooms after 2 AM.
Miraculously the Tom's wake up and make it to their meeting with Lisa. They're picking out furniture but really it's Lisa picking out everything and wanting the Tom's to watch and learn. After the meeting, Schwartz rewards their grown-up behavior, as well as toasts Sandoval's birthday, with jello shots he had stashed in his pocket. They get back to the suite and a few minutes later, Jax walks in with a nice guitar he got Sandoval for his birthday. That teary-eyed scene was followed up with Sandoval singing a song about kissing his sister. It was a very nice gift, and maybe if he'd gotten one for Lisa he would've been invited to the extravagant dinner Lisa set up for the Sandoval's birthday. The Tom's and their trophy wives enjoy dining like Lisa and then decide to go out for his birthday. After all, Sandoval's a businessman now, he can handle it. They head to Tao and keep the party going until 3 AM, primarily because neither Tom wanted to be in charge of making the business decision to go to stop and go back to their room. And what do you think happened the next day? The Toms were late for their meeting. They weren't just late; they were still drunk and kept drinking to mask that they were drunk. While it sounds good in theory I assure you it doesn't work. They look awful and continue to interrupt Lisa as she works, resulting in her having to make them sit in another room like a couple of first-graders. This doesn't sit well with drunk-Sandoval and he interrupts one more time, possibly for the last time.
Now that we all know what happened in Vegas, let's take it back to L.A. Scheana Marie accompanies Lala Kent to the studio where she's recording. Fun fact: it's the same studio that Scheana recorded her two songs at. The difference is Lala can actually sing and has hired a team to make help make her a superstar. The song she's recording is one she wrote for "her man" and I can't decide what's more obnoxious: Scheana comparing Rob to Jesus or Lala calling her boyfriend "her man". Oh, and it's important that you know "her man" didn't pay for her studio time. She paid for it because she didn't want to pay him later in blowjobs; I don't know what the monetary equivalence would be but based on the fatigued look on her face when she said it, it sounds like a lot. After recording, Scheana sits down with Lala and tells her what Kristen told her about Jax and the Rob story and starts again with the "we're getting married", and "we've already named our first kid" and "maybe he's not as in love with me as I am with him but so what?" At this point I wanted to rock my TV back and forth in the hopes I would shake some sense into her.
Side note: Lala got Scheana in the booth to record a spot for her song, which resulted in Lala calling her tone-deaf. I love you, Lala.
Later, Scheana, Lala, and Billie go to dinner where Billie informs the girls she's sad because her ex-boyfriend can't get past her being a boy. (His loss, Billie is gorgeous) Hang on, the conversation isn't about Scheana. No, this can't be, so Scheana tells Billie she understands because she should've never married Shay and Rob is who she's supposed to be with, not helping with Billie's problem at all. Thank Rob, Lala changes the subject and tells the girls she's going to ask Stassi to plan her show. James will be performing, which Lala cries about because while she loves him as a friend, he's a bit of a pisser when he's drunk, to which Billie replies: "maybe he has a crush on you". I think Lala just likes to hear this. Maybe Raquel should hear it, too.
Lala meets Stassi to discuss the event, which even Stassi finds interesting because Stassi used to hate Lala – it was how she had to prove her allegiance to Katie. But things are cool now because they have getting drunk and turning emotional in common, allowing them to be friends. They then talk business, explaining that while James gave her her start, it's time for her to spread her legs and fly, musically. Look, I don't know how that works, I'm not a pilot, but that's what she said. She also inquires about how she can keep James from drinking during the show in an attempt to prevent him from being an a**hole, to which Stassi actually offers some good advice. He can either not drink, or he can't be there.
So, while James is doing his photo shoot (and after he tells Raquel about Lala pouring champagne on his chest) Lala tells him he can't drink, which prompts him to start with the, "why isn't your man going to be there?" He agrees not to drink but let's just all be me every time I say I'm not going to drink. You know it's going to happen. Do you think he'll ruin Lala's show? More importantly, do you think Sandoval ruined his business partnership? Comment below!
---