Vanderpump Rules Recap: SUR Going South
Season 6 - Episode 16
Jennifer Ray March 27, 2018 3:33pm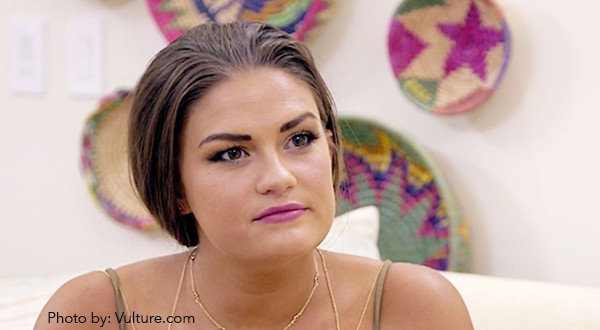 A few years ago a friend of ours was married in Mexico. We were invited, probably because he and his future wife didn't think we would attend. We did, as well as brought my in-laws. They're from Memphis and this would be their first trip to Mexico. The resort was on a hill and to get there you had to take a cab and have a death wish. Of course, the resort didn't look like any of the pictures. All-inclusive meant only the breakfast was free. It rained the entire time were there, so the only thing to do was drink and play Monopoly on our iPad. We got too drunk to actually attend the wedding ceremony. And because the breakfast wasn't too great my in-laws bought ham and bread from the store in the lobby and ate ham sandwiches the entire trip. Yet, despite everything that went wrong on that trip, I still believe we had more fun in Mexico than Stassi Schroeder and Jax Taylor did.
Yes, it seems that Jax turning 38 is proving to be a bit of a p**ser for him and Stassi. We'll begin with Stassi who, for reasons unbeknownst to the rest of us, has decided to room with Kristen Doute. As predicted it's a horrible mistake. Krazy Kristen is in full force, wasted beyond words (literally, she cannot speak) as she has been drinking since the show first aired in 2013. After falling down repeatedly, they retreat to the room only for her to have a meltdown as she has panic attacks when she leaves the country without her boyfriend Carter – probably because her mobile plan won't allow her to track him. It gets so unbearable that eventually, Stassi crashes with a drunk and pizza-eating Katie Maloney-Schwartz and Tom Schwartz informing them that Kristen is currently losing her mind and she cannot stay with her. It doesn't just stop with them. While at the water park Stassi informs the girls how horrible Kristen has been, describing her tantrums in full detail as though she has suffered amnesia and has no recollection of the tantrum she threw at her own birthday party, storming off and abandoning her friends and family. After Kristen reappears from sneaking off to instruct her phone to track Carter or else, Stassi confronts her, telling her that she's awful and will never travel with her again. Unfortunately for Stassi, she has nowhere else to go, so she makes up with Kristen while they get dressed for a night on the town and all is right for this episode.
Jax, on the other hand, doesn't have it as easy. After being attacked by the girls, Jax has had enough. He joins the boys for some lighthearted, level-headed drinking. James Kennedy opens beer bottles with his teeth. Tom Sandoval feels bad for Jax as he believes Jax has been through the ringer. And the debauchery continues. While everyone drinks themselves into a coma, Lala Kent warms up milk, adds honey and drinks it out of a baby's bottle. Do you think her man knows about that?
They all finally drift off to sleep/pass out, only for them to have to wake up 42 minutes later to head to the water park. As they all rise, Jax is sitting on the patio, holding a rock. Brittany Cartwright joins him and he informs her that he's warding off negativity with his negativity rock. Kind of like those pet rocks from the 70s only these do more pretend tricks. Brittany lets him have his alone time, Jax rubs the rock on his head. Listen, what do I know? When I'm stressed from being a jerk I just stop being a jerk. I've had it wrong this whole time.
Eventually, they all make it to the water park; everyone has fun while Jax disappears for more alone time, with regular rocks. Brittany finds him and tells him about her Lemer experience (he doesn't care) and then compliments him on staying calm while all of the girls were attacking him, which he attributes to channeling his inner Kelsey. I wonder if there's there a rock to help Brittany not murder Kelsey? Brittany continues with her praise of how happy she is for him on the new job, as well as why moving is a lot to think about. Of course, Jax still doesn't understand the hesitation. Maybe it's because we've yet to see proof of this once-in-a-lifetime job.
Because it hasn't stopped being Jax's birthday, James decides to give him his present: Intel on Scheana Marie trying to set up Brittany with the new SUR barback, Adam. Jax invokes his Reiki but is p**sed.
After the water park, the gang gets ready for dinner. Schwartz believes he looks like Conner McGregor, the Mixed Martial Arts fighter. Lala's "man" wants her to come home. And Scheana, good ol' Scheana. She tried to stay off her phone but duh, she could not. She Facetime's Rob and he pretty much tells her to get off her phone and enjoy herself. Lala's response to that is, "I wish Scheana would enjoy this time and just focus on herself." Quite frankly, unless they start filming the show from her perspective where it looks like we're all watching through Scheana's eyeballs, I don't think that's possible.
Once dressed, they all head to SUR Steak House. I'm not joking. They order a round of shots and everyone appears to be getting along just fine. Schwartz mentions how hanging out with Lala would've been impossible back in the day. Jax invites James over to play on his drum set. And then Scheana starts talking about Rob being able to fix things and hook things up in mere minutes. I don't know about you but I can't take it anymore. I'm glad she's dating a sorcerer but I can't listen to another "anything you can do, no you can't because Rob can" story. Based on Scheana's "listen, Linda, listen" response to her "friends" reactions, I'm guessing everyone is finally starting to tune her out.
Presumably to get away from Scheana, Jax and Sandoval head to the bathroom where Jax informs Sandoval of Scheana's attempt at hooking up Adam and Brittany. That's not the only drama. Because Tequila is truth juice, James starts telling everyone about his time being bullied, consequently turning him into the James we know today. Listen, we needed filler content, OK? After we get to know more about James' fabulousness translating in the America's, Scheana toasts Brittany for organizing the trip and is grateful they could all get their shifts covered as if it was difficult. Jax isn't buying Scheana's niceness, and now he knows what it feels like to get "Jaxed."
Anyway, after dinner, it's time to head to a club because of course it is. Stassi makes jokes about Schwartz getting black-out drunk which is both funny and true. Sandoval pulls a noticeably drunk Scheana aside to ask about the Adam/Brittany debacle, to which Scheana replies that she only did it so Brittany could see there were more guys out there than just Jax. At that moment Jax shows up and continues the questioning, eventually calling Brittany over. The whole ordeal ends with Jax telling Brittany if she wanted to leave she would've done it a long time ago, and Scheana remaining proud of her actions, proclaiming "that's what he gets for saying Rob doesn't love me."
If that was her response to Jax's comment, does this mean we're all about to feel Scheana's wrath? Do you think Scheana was out of line by trying to set Brittany up with Adam so she would leave Jax? Or are you all coming up with your own plans? Comment below!
---