Vanderpump Rules Recap: Ice Queens
Season 7 - Episode 5
Jennifer Ray January 8, 2019 10:59am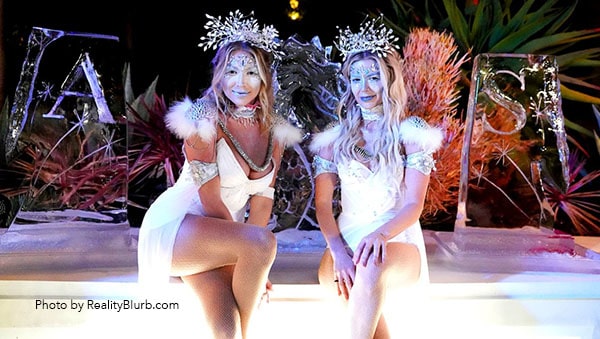 Call it PTSD, but this week's episode caused my brain to dredge up repressed memories of episodes past. James Kennedy working his way back into Lisa Vanderpump's good graces. Stassi Schroeder throwing a tantrum on her birthday. And dear lord, no. Anything but this. I'm twitching as I type this: Scheana Marie appears to be in another Rob situation. All we need is for Kristen Doute to start telling us all to "suck a d*$k" and we will have come full circle. Brittany Cartwright and Jax Taylor better make something new happen and get married quick before he and Stassi get back together.
Our journey to yesteryear began at Vanderpump Dogs where Lisa conducted a photoshoot for her campaign "Stop the Torture". The entire gang shows their support by participating, even an ostracized James Kennedy. While his presence was awkward, Scheana managed to one-up him by showing up with busboy Adam. Are they dating? No, she claims. They've just kissed a few times and are hanging out, but she's committed to not being committed. So she'll be planning their wedding and naming their kids by next week.
While everyone has their photo taken, Lisa pulls James aside to have a talk with him. She asks him how he's doing, then tells him that she'll be meeting with his mother to let her know that she needs to support James more. Unfortunately for James, that was his only positive talk of the event. From there he gets summoned by Ariana Madix and Stassi to be told that, as a result of his most recent drunken meltdown, he is now uninvited to their birthday party. Stassi tries to explain that it was her decision, but James isn't trying to hear it. And with that, he and Raquel leave the event.
James isn't the only one who receives some upsetting news. The next day, Lala Kent and Brittany partake in a spa session – they get butt facials. Afterward, it's time for some girl talk. Lala asks Brittany if she has any reservations about marrying Jax. Why would she ask such a thing? Well, it turns out that Ariana and Tom Sandoval are concerned that Jax may have only asked Brittany to marry him because of his dad's passing, and when he's done grieving he may return to his old ways. This surprises Brittany as they all just celebrated their engagement – how could they think that? Jax has NEVER gone back on his word or has been nice for 5 minutes and then gone back to being a jerk. Pff.
The downhill slope continues at Scheana's apartment. Scheana is slowly getting settled into her new apartment and Adam is there to help. He isn't hanging a TV but he is assembling her day-bed for her, and while a Rob he isn't, their interaction is very reminiscent of the season that made us nauseous. The entire time he worked, Scheana flirted with him, relentlessly attempting to get him to sleep with her. He resists which means we're going to spend the entire season listening to Scheana talk about how Adam makes her vagina dance and watching awkward clips of her trying to make him the next Rob.
While Adam pulls double duty putting together Scheana's bed and avoiding her vagina, Lisa pulls double duty caring for a bird and getting work done for Tom Tom. The Tom's arrive at Villa Rosa ready to work. Lisa has Tom Schwartz get the busser shirts out of her car and count them, while she has a sit down with Sandoval. Because James and Sandoval have been, and remain, friends, Lisa believes they can both help him become a better person and quit drinking himself out of a job. Lisa then moves on to helping Schwartz who had trouble counting shirts because math – which, ironically, he majored in for a while.
Lisa begins the road to helping James immediately. First, she meets with his mother, Jacqueline, in one of the most cringe-worthy scenes since watching Scheana trying to seduce Adam. Lisa begins by telling Jackie about James' behavior towards women, at which point Jackie stops her and begins to explain that it's actually the women's fault for provoking him. Lisa gets upset at her for defending him, which makes Jackie admit that it's hard for her to get mad at him when she's made so many mistakes in that past. She then begs Lisa not to fire James, and while Lisa tells her that she can't put him in SUR with the women he insulted, you can tell the wheels are turning – they turned all the way to James' apartment where Lisa pays him a visit. James gives us a little more insight to his problem: Jackie was an alcoholic whose disease caused a lot of fights leading James to leave home when he was 18 (something that people normally do but whatevs). Lisa tells him she isn't giving up on him, to which James replies "I don't want to be this person anymore." Will this be a repeat of 2 seasons ago? Probably!
Finally, it's time for Ariana and Stassi's party. As the women get ready, Brittany shows Jax to the dressing room and then tells him about Ariana and Sandoval's comments about him going back to being "old Jax". Jax immediately gets pissed, saying that he was going to ask Sandoval to be his best man but now he doesn't even want to invite him. Oh wait! I almost forgot! He says that Sandoval is just jealous because Jax is getting married and Ariana doesn't want to get married. Jax thinks Sandoval is jealous of him. Read that again. It never stops being funny.
The party begins and Stassi is already in awe of everyone's costumes: Schwartz is some kind of gnome, Katie Maloney-Schwartz is an ice warrior princess, and then Stassi says "and Scheana came as Stassi." BTW, Stassi wrote a book and I'm going to buy it because of that comment alone. Lala arrives in not-winter attire. Stassi does a butt shot off Ariana's butt while Scheana watches with a hurt butt. Raquel arrives and Kristen brings her a welcome drink, which I thought for sure would make us all witnesses to a poisoning. While everyone has a great time, Jax pulls Sandoval aside to question him about the comments he made to Lala. Sandoval tries to explain that he wasn't talking bad, he was just concerned. Jax goes on the defensive, saying he would never talk about Sandoval and Ariana even though he spent the first season they were dating doing just that. Sandoval apologizes, they go get a shot and then hug it out. And that's how you have a fight.
While they had a normal talk, Stassi and Ariana had a drunk talk with Raquel about why James wasn't there. Raquel tells them that James has been sober for over a week and a half and that he really wants to be a better person for himself and everyone else. Drunk Stassi doesn't believe this and tells Raquel that now that she's 30, she's just trying to share her wisdom. Raquel tells her it's unwanted, and Stassi's night only goes downhill from there. At about 2AM, Stassi is ready to go to bed but her boyfriend, Beau, is still having a great time at the party that is just right upstairs. So, with all of her wisdom, Stassi begins texting and calling him non-stop every 30-seconds like an egg timer. After numerous unsuccessful attempts to contact him, she does what only seems logical and breaks her phone.
So then, how do you feel about next week's episode? Will Adam finally give in to Scheana? Did Stassi just ruin her and Beau's relationship? DO YOU THINK JAMES WILL GET HIS JOB BACK, AGAIN? Comment below!
---