The Most Iconic 'Vanderpump Rules' Fights Part 1
SURving up the drama!
Lara Sophia April 29, 2019 11:39am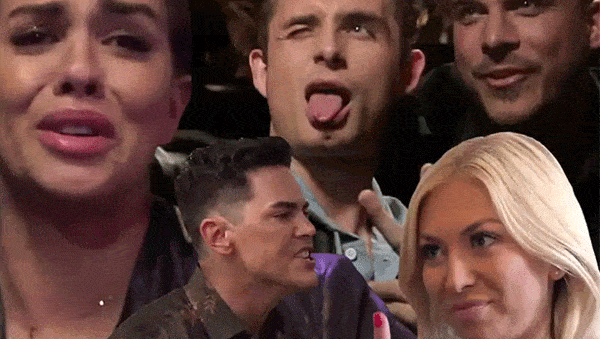 For the last seven seasons, it's been non-stop drama for the  Vanderpump Rules cast – we're talking slaps, shirtless fights, tossed drinks, and more outrageous outbursts.
With that said, grab a PUMPtini and join us as we take a look back at some of the best drama ever SURved up on Vanderpump Rules. Trust us you'll be begging for more!
Jax Implodes At Stassi's Birthday – Season 1, Episode 4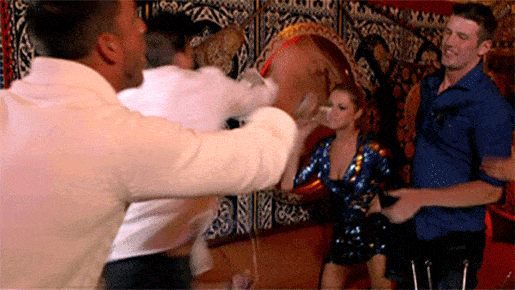 Chunky sweaters and drinks went flying when Jax crashed Stassi's birthday party in Vegas.  Jax, who just couldn't handle that Stassi moved on with fellow SUR bartender Frank, shows up and causes quite the scene in and outside of the restaurant.
Laura Leigh vs. The World – Season 1, Episode 5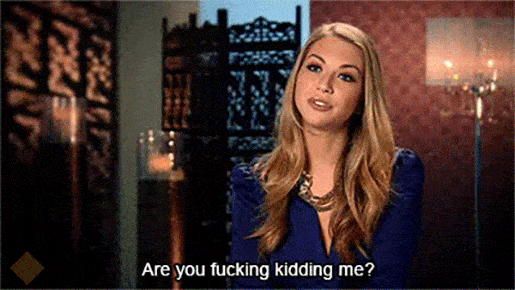 Laura Leigh came and went on Pump Rules but she made a lasting impression. One of her most iconic moments happened when she went head to head with SUR Queen Bee Stassi during a staff meeting.
Jax Admits To Cheating In Vegas – Season 1, Episode 8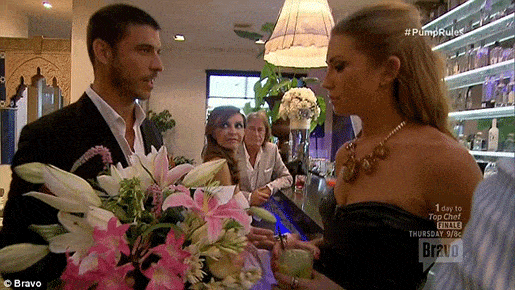 Stassi knew in her gut that Jax cheated on her in Vegas but hearing him finally own it was much more emotional than anyone ever expected. After months of denying it, Jax finally apologized. A little too late for Stassi.
Scheana vs. Katie & Kristen At Peter's 30th Birthday – Season 2, Episode 7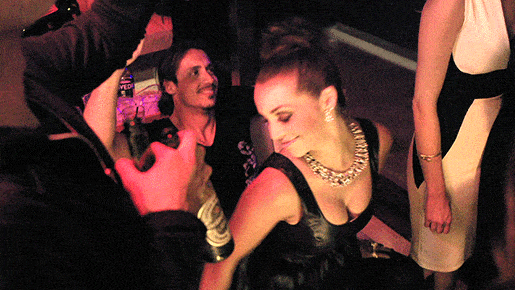 Kristen and Katie picked apart everything Scheana did, wore, and said during season 1 and 2 of Pump Rules. So, it wasn't surprising when they took issue with Scheana giving Peter a playful lapdance at his birthday party. Katie and Kristen freaked out on Scheana for "grinding on Peter" when she had a boyfriend.
Schwartz Dumps A Drink On Katie In Mexico – Season 2, Episode 10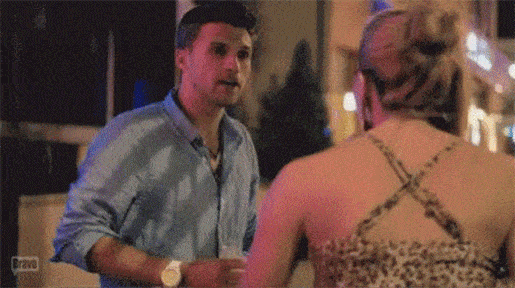 Schwartz is the most loveable and affable character on Vanderpump Rules but that doesn't mean he's without flaws. Tom has a habit of dumping drinks on women's heads on more than one occasion. While in a spat with his then-girlfriend Katie in Mexico Tom poured a drink on her which only intensified the fighting.
Stassi Gets Physical With Kristen – Season 2, Episode 13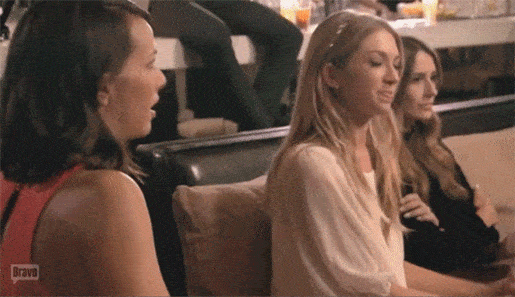 The slap heard around the world. Stassi got physical with her former BFF when she confronted her about sleeping with Jax.
Tom Sandoval vs. Jax – Season 2, Episode 14
When Jax admitted to sleeping with Kristen, Tom, who was Kristen's longterm boyfriend and Jax's BFF, was way too calm. So it was only a matter of time before Tom blew up, which he did at Scheana's engagement party when he charged Jax out of nowhere and started throwing punches.
Stassi Delivers A Line For The Ages – Season 3, Episode 5
Basic witches unit! Stassi delivered an unforgettable line when she confronted Scheana while lunching with Lisa Vanderpump at SUR. Scheana was less than thrilled that she has to wait on Stassi, now that Stassi had moved on from being a SURver.
Kristen Brings Miami Girl To SUR – Season 3, Episode 13
At one point in time, Kristen was willing to do anything and everything to break Tom and Ariana up and that included bringing Miami-girl to SUR to confront Tom about their alleged rendezvous. Kristen's plan backfired when Tom and Ariana booked it out of SUR in the middle of their shift.
Kristen Snaps At Diana – Season 3, Episode 13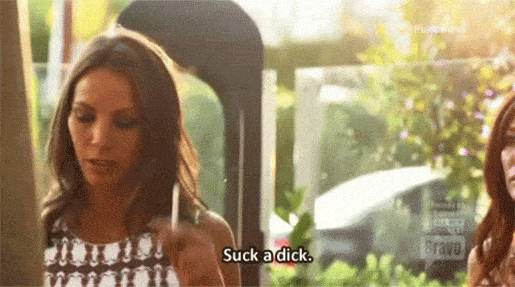 However, the drama didn't end there. Kristen and Miami girl hung around and caused, even more, a scene when Kristen and Scheana got into a shouting match over Kristen's behavior. SUR manager Diana intervened to shut down the drama. But Kristen wasn't having it and sealed her fate at SUR by telling Diana to "suck a dick." Lisa fired Kristen from SUR shortly after.
James & Kristen At Scheana's Reception – Season 3, Episode 16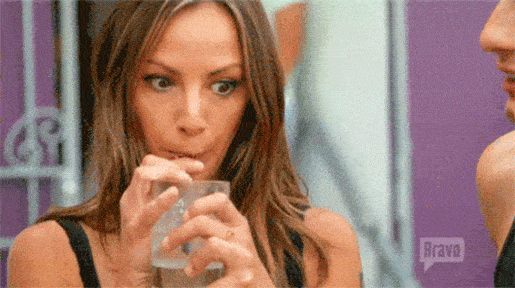 James and Kristen's romance could best be described in one word: volatile. Over the course of their relationship, the two got into more fights than we care to remember but one of their most infamous fights took place at Scheana's wedding. Their fight started when James confronted Kristen about going off to a car with her male friend and ended with Kristen hitting James in the face.
When Lala stepped on the scene at SUR she wasn't exactly welcomed with open arms by Scheana and Katie, who were convinced that Lala was a sugar baby after she claimed to be going to Italy for a "modeling job" mere days into starting as a hostess. The rocky dynamic between Lala, Katie, and Scheana lasted a while but eventually, they all worked out their issues.
Tom Leaves After Ariana's Birthday – Season 4, Episode 7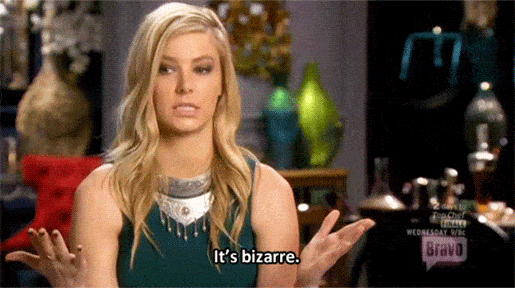 Tom and Ariana's relationship seemed to have no issues that is until Tom ditched Ariana and their birthday plans to head off to Vegas with his boys. Tom justified the "guy's trip" because they were going to play in a giant sandbox with bulldozers. Boys and their toys. Insert eye roll.
Lala Goes Topless – Season 4 Episode 12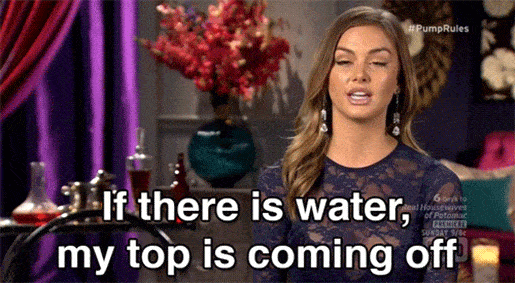 Lala made a BIG impression during her first cast trip to Hawaii when she showed it all off. Since then Lala's made it her thing to be topless whenever she can but at the time it was quite shocking to her co-stars especially Katie, who was extremely offended that Lala would swim topless in front of other women's boyfriends.
On the very same trip, Lala tells Brittany that Jax has been hitting on her while he and Brittany were dating. Jax denied everything despite there being video evidence of the flirting. Lala couldn't believe Jax's lies and blew up at him over his ability to lie so easily.
Which Pump Rules fight is your favorite? Sound off below!
---