Vanderpump Rules' Brittany and Jax are Engaged!
Congrats?
Genny Glassman June 8, 2018 4:22pm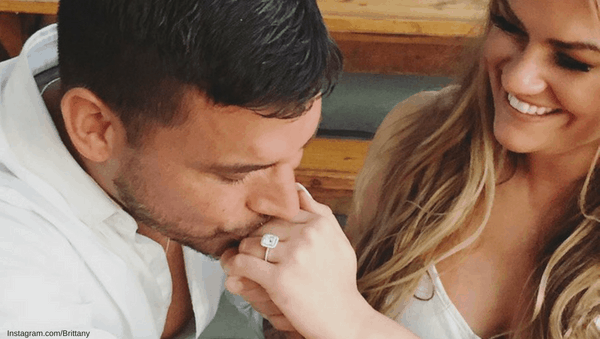 Despite the cheating and all the drama that came with their relationship, it looks like Vanderpump Rules' Brittany Cartwright and Jax Taylor are officially getting hitched. Well, they do say that love is blind….
Brittany announced her engagement on Instagram Thursday night, gushing in her post that, " I am so happy, so in love, and so beyond excited for this next chapter of our lives! I can't wait for all of you to see how he proposed! I am the happiest girl ever right now. 💝👑 love can win 💝💝"
Well, at least the ring is gorgeous!
According to a full timeline of their relationship, published by Bustle, Brittany and Jax have been dating since 2015, after the pair met in Las Vegas and Jax convinced Brittany to move to Los Angeles to be with him. While the move seemed strange for Jax, who is a notorious womanizer, fans were willing to go along with the nice Kentucky girl that Jax had settled down with…That is, until Jax asked Brittany to get breast implants. Fans were outraged that Jax would request that his new girlfriend change her appearance, and Jax even told Brittany that they "weren't just for her, they were for him."
In 2016, things got weird again, when Jax told the rest of the cast that he walked in on Brittany and Kristen Doute having sex. Both Brittany and Jax later denied that Jax had ever said this, but the damage had been done.
The most recent drama surrounding the two came last season when Jax cheated on Brittany with another server at SUR, Faith, who was afraid that she was pregnant with Jax's baby. Jax did eventually tell Brittany the truth, and the confession seemed to mend whatever damage had been done. After briefly separating, the two got back together.
While we can't say that we embrace this new engagement, we are rooting for Brittany to find happiness no matter what happens. So congrats, you two! We can't wait to see Lisa Vanderpump officiate your nuptials!
What do you think about Jax and Brittany getting married?!
---