OMG this guy wrote a Vanderpump Rules birthday poem for his girlfriend!
Staff March 6, 2018 1:37pm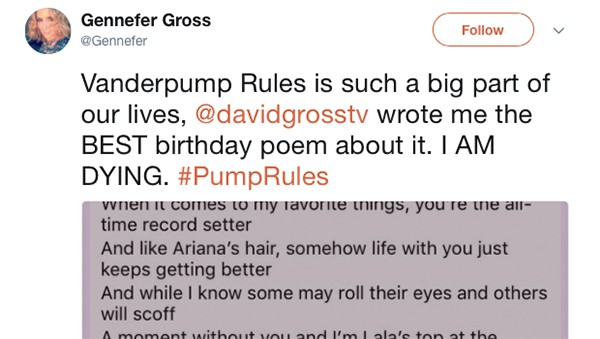 Someone tweeted the birthday poem her perfect boyfriend wrote for her and it's all about Vanderpump Rules! Three words of advice for this girl…. MARRY. HIS. A$$. Check it out below!
Vanderpump Rules is such a big part of our lives, @davidgrosstv wrote me the BEST birthday poem about it. I AM DYING. #PumpRules pic.twitter.com/z8Dxq8Ht4S

— Gennefer Gross (@Gennefer) March 4, 2018
Speaking of real life Bravo romances… have you listened to the Married to Bravo podcast?! Check out our interview with the husband + wife duo HERE!
---