Trans Model Responds To RHONY Stars
Yasmine Petty encouraged Dorinda Medley and Sonja Morgan to be more open minded.
Ashley Hoover Baker September 11, 2019 9:14am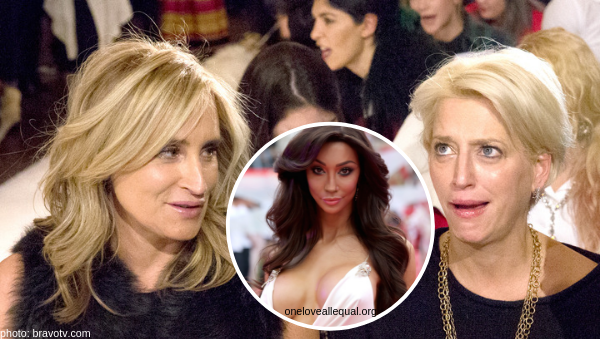 Can we get a 'clip' Dorinda Medley and Sonja Morgan?!
The Real Housewives of New York stars were behaving inappropriately during a New York Fashion Week show event that proudly displayed diversity in its model selection. A trans model, Yasmine Petty, responds to comments made from RHONY stars Dorinda and Sonja.
In case you missed it:
"Who is that?" Sonja asked Dorinda. "Oh, that's a guy, right?" referencing RuPaul's Drag Race alum Miz Cracker.
As Yasmine walked the runway, she overheard "Well, with a body like that, it's a guy," from RHONY's Dorinda. "That's a guy."
Sonja commented, "Yeah, with a body like that it's a guy, you're absolutely right."
Yasmine did an exclusive interview with Us Weekly explaining why Dorinda and Sonja's comments hurt her so badly. "As a transgender woman, I've never thought of myself as a model. But I have always tried to fully embrace who I am in whatever I do," she said. "Sometimes that requires being vulnerable and brave. I was excited to model in a runway show for Garo Sparo at NYFW, an artist who celebrates diversity and authenticity." 
The actress and self-proclaimed unicorn continued, "During that show, as I walked down the catwalk with my head held high in who I am, a few women in the front row (who we've all seen on television) spoke hurtful, damaging comments, saying, 'With a body like that, it's a guy.' In fact, that very moment was captured on social media and shared with the world." 
In case you want to hear the comments Sonja and Dorinda made for yourself, here ya go!

Sonja and Dorinda got wind of the negative press their insensitive comments received and made a statement to Page Six Style. "We have a history as long-standing supporters of the LGBTQ community in many ways and apologize for our offensive comments at the fashion show."
Do you think Dorinda and Sonja will take Yasmine's advice and try to be more sensitive? Sound off in the comments!
---