The Top 12 Real Housewives Psychic Moments!
Staff April 12, 2018 5:00pm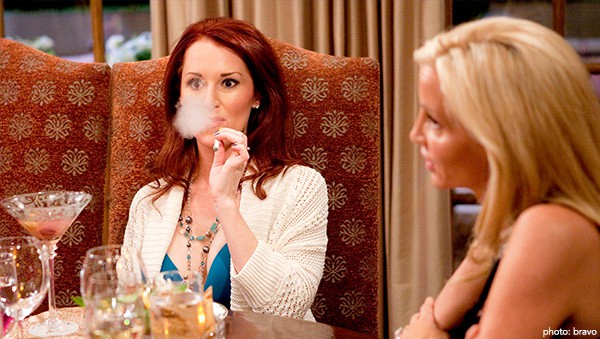 From uncovering cancer scams to predicting when each other will die, the Real Housewives love a psychic reading as much as a tea spilling! These are the top 10 psychic moments in Real Housewives history!
12. Mystic Michaela – RHOC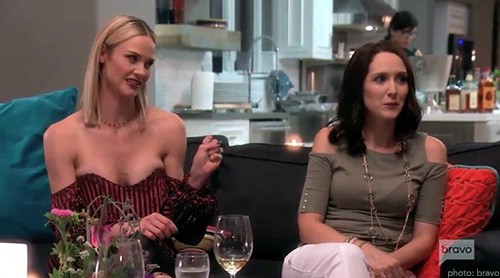 Mystic Michaela was kinda meh on Real Housewives of Orange County Season 12 but Meghan King Edmonds swears by her! She was hoping this psychic reader would stir things up but some of the ladies were less than impressed by her presence.
11. Rebecca Fearing – RHOBH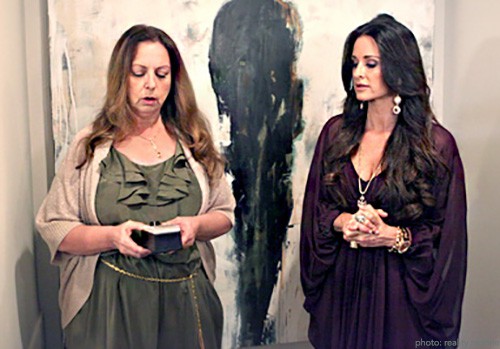 From way back in Real Housewives of Beverly Hills Season 1,  Kyle Richards visited her go-to psychic, Rebecca Fearing, with her dead mother in tow…. literally. She brought her ashes and locks of her hair. Ummm. Creeptastic! The psychic told Kyle to make room at her next party for her mother and 25 other ghosts. Errrr… The more the merrier, I guess?! — Get a private reading from Rebecca to connect with your own ghost friends!

10. Concetta Bertoldi – RHONJ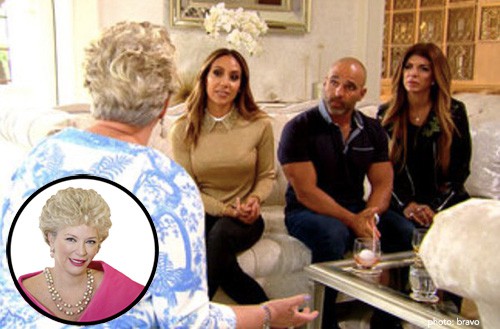 In one of the sweeter Housewives psychic moments, Teresa Giudice, Joe Gorga and Melissa Gorga call on psychic Concetta Bertoldi (who's Italian, naturally) to see if they can communicate with their mother from the other side. "She knows things she would never know unless she was talking to Teresa and Joe's mother!" -Melissa — Stay tuned to Concetta's website to go to one of her live events OR get her book Do Dead People Watch You?
9. Tim Braun – RHOC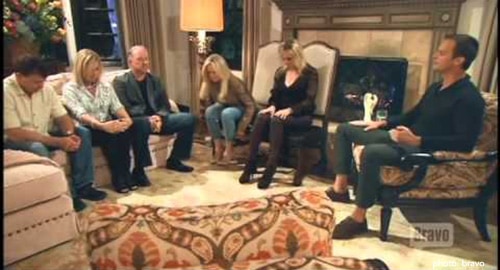 After the passing of her mother in RHOC Season 10, OG from he OC Vicki Gunvalson invites the girls to a good ol' fashioned seance with medium Tim Braun who sees all sorts of spirits! When he makes a claim about a tattoo, Tamra Judge puts him to the test by asking him to prove what it is. "The guy had nothing. He could have said tribal because 90% of people have tribal tat." -Tamra — Maybe you'll have better luck! Book a reading with Tim!

8. Jackie Gilles – RHOM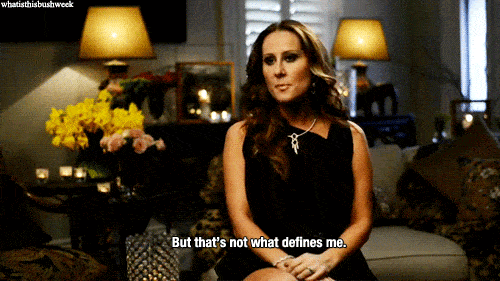 In Season 1 of Real Housewives of Melbourne, Jackie Gilles made her debut as the first psychic Real Housewife in history! Catch Jackie on her #ShineShineShine It Up tour now or book a reading!
7. Kim the Happy Medium – RHONY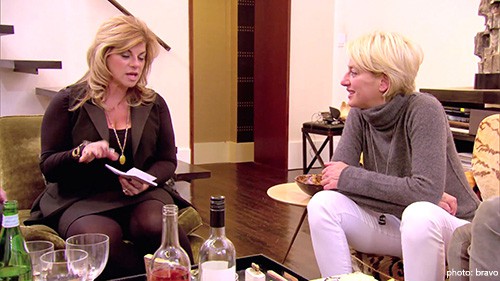 On RHONY Season 8, Carole Radziwill invites Kim the Happy Medium to give the ladies a reading but things go the opposite of happy when she guessed Dorinda Medley's boyfriend's name. "John? That's a really rare name. *eye roll* I'm a cynic. What do you want? Tell me when my divorce is gonna be over!" -Bethenny Frankel — Ramona Singer's mouth also got her in trouble when she blurted out that she's happy the psychic didn't see a future for Dorinda and John. "He doesn't like you either. He thinks you're a b***h." -Dorinda — Book a reading with Kim to communicate with the other side!
6. James Van Praagh – RHONJ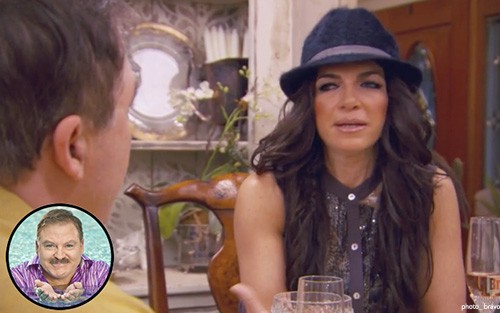 Dina Manzo's flamboyant psychic friend James Van Praagh gave Teresa Giudice a heads up about her legal woes but missed about half the verdict! "You're going to be fine! Not so sure about your husband." -James — He insisted that Joe Giudice would be in for some jail some time… but that little twinkle in his eye told us it's just his fantasy of all those locked up men talking! Go here for a sassy psychic reading from James!
5. Thomas John – RHONY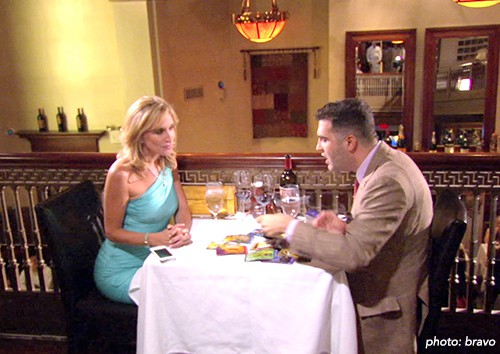 Real Housewives of New York's Sonja Morgan is notorious for making bad decisions… and now we know why! She seeks out guidance from Thomas John, a mystic tarot card reader who may or may not be Ross Matthews' gayer twin brother. "There's one devil in your inner circle. It's actually a woman." -Thomas — Well no sh*t, Sherlock! — Check out one of Thomas' psychic workshops.
4. Rebecca Fearing Part 2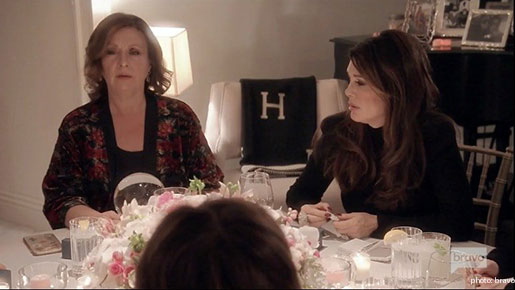 Rebecca Fearing actually makes another RHOBH comeback after her first appearance on Season 1 when Kyle invites her back in Season 8. Kyle says goodbye to her old house by having one last seance at the old one with her favorite psychic, Rebecca Fearing. She claims to receive phone calls from heaven which leaves some of the ladies second-guessing. "I can't even get Neiman Marcus on the phone… how can she get heaven?" –Lisa Vanderpump
3. Scott Cruz – RHOC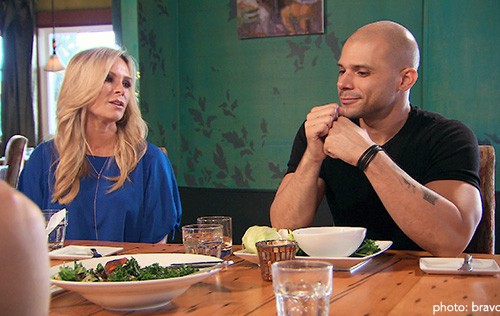 The psychic who sent Real Housewives of Orange County into a cancer scam tailspin, Scott Cruz is the psychic buddy of Tamra Judge who really rocked the boat when he revealed that Vicki Gunvalson's ex-boyfriend Brooks FAKED cancer! "I'm just not seeing it." -Scott — Book a psychic reading with Scott to find out who's faking what in your circle!
2. Mbele Kongo Princess – RHOA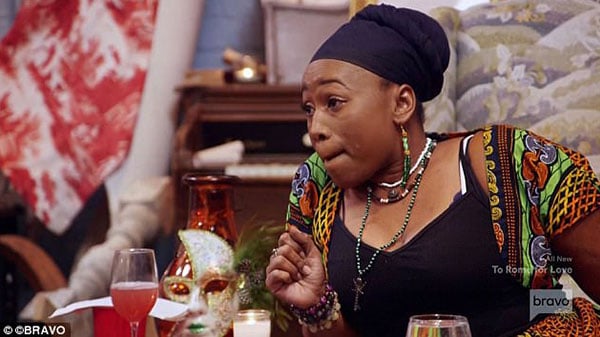 Good ol' Mbele! This unforgettable medium made waves in Real Housewives of Atlanta Season 10 when she struck fear in the heart of Kenya and went to bat with Kim! She's a total character who actually gave us an exclusive interview on our Taste of Reality Podcast! Give it a listen and then get a personal psychic reading from the Kongo Princess!
1 . Allison Dubois – RHOBH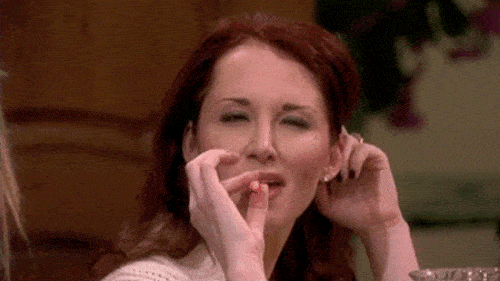 Our top spot is the mother of all psychic meltdowns! This is the FIRST psychic appearance on any season of the Real Housewives and it will probably always be the BEST! The infamous dinner party from hell went down in flames when Camille Grammer's psychic friend Allison Dubois went bat s**t crazy while trying to defend Camille against Kyle Richards. "I can tell you when she will die and what will happen to her family. I love that about me." – Allison — This Real Housewives of Beverly Hills psychic left us with so many Dinner Party From Hell gifs from this moment in RHOBH Season 1 Episode 9 and one liners like… "He will never emotionally fulfill you! Know that!" -Allison — Book a psychic reading with Allison and PLEASE tell us all about it!
You can relive the drama in the video below:

What's your favorite reality TV psychic moment?! Comment below!
---